A Season of Thanksgiving II
Wednesday, 19 December 2012
Another round of thanksgiving today <3
CONRAD KOH YI YONG THE WEIRD BEST FRIEND <3
Seriously, it amazes me at how well this guy over here knows me and I love talking to him because he makes so much sense and logic out of everything, okay it can get pretty annoying at times but I guess that's what you get when you have a math major as a WBF. But most importantly whatever he says always makes me think so much deeper into things and helps me realize the greater truth. Basically he speaks sense into my life especially when I'm being stubborn minded and stuff. And over the years that we've known each other, I've seen how much he has grown and matured as an individual to become a man of God that I am really proud of :) Even though he's always being mean and calling me names and stuff, I know that he truly cares for me and loves me. I really am truly blessed to have someone like this in my life!
Momo's the retarded friend of mine in red and I've known him since I was 10, so that makes it 8 years since we've known each other. I'm really lucky to have him be my classmate for my 4 years in Anderson, from lower sec days where we did stupid things together after school and would talk on the phone for hours debating over stupid things to our upper sec days, where we'd sit at the back of class playing pokemon on his DS and doing SRP together (plucking 40g of cow grass in the field for hours). I'll always remember all the weird and touching things he's done for me, from declaring 1% of his love as mine for eternity to how he came down all the way to plaza singapura to pass me my birthday present in 2010 just because he wanted me to have it on the actual day. And it was such a thoughtful present, a giant toy bear (because I call him momo my pet bear) that he wanted me to have with me for the rest of my life so that I'll have 'someone' to cry to whenever I'm feeling down. It's seriously one of the sweetest things anyone has done for me and till this day on bad days I'd still hug momo (the name of the toy bear) and wish for myself to feel better. And I know this is super retarded but it's been like nearly 2 years since I've met him, but that warm, comforting feeling I get still remains.
Momo can never ever be replaced!
And Wai Siong, this guy is just crazy. Seriously, since I've known him in sec 1 I've already thought that he was really crazy and ever since then he has become such an integral part of my life (I can't even escape him if I wanted to), but he's really (quite) a joy to have around! Always making weird ass comments and being bitchy with me and being such a naggy 'motherly' figure to all of us little kids (that's what he calls us). But he's really this damn encouraging person, always encouraging us in the weirdest of ways, but providing good encouragement nonetheless.
Lots of ♥, Cheryl
Adverstisements
nuffnang
Profile
cheryllsw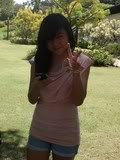 ♥ cheryllimsuwen, 29/11.
msn | facebook | tumblr | twitter | bucketlist | 365project| OOTD| fashion blog|

For beautiful eyes, look for the good in others; for beautiful lips, speak only words of kindness; and for poise, walk with the knowledge that you are never alone.
audrey hepburn



Affiliates

you're on your way

603 603 1/3 2/3

A Guides ASC Adlyn Angie Aqilah Amadea Adeline Aleithia Aubrey Amanda Aloysius Ariel Adalie Allison Amanda Athirah

Brandon Becks Blodwen Boon Hui

Cell blog Charmaine Connect Cherine Chen Teng Cheryl Calista Celeste Casmelin Colin Chun Rong Cara Cheng Ce Chui Shan

Damian Dilys David

Emily Elhannah Ethel

Finn

Guo Zhang Gabriel Glenice Gerald Gina Gloria

Haililly Hui Fang Hui Ling

Izzah n Anna

Jetaime Jun Xuan Justin Jaslyn Jasmine Jesslyn Jin Hong Jing Yi Jia Ning Janice Jassy Jerald Johnathan Jing Fang Jaini Joshua Jing Wen

Kevin Kellyn Kristine Kuan Ting Kelly

Lovel Louisa Liting Leon Lynette

Melvin Magdeline Ming Zhen

Nafeeshah Natalie Nicholas Norman Nichola

Pearl Pei Shi Phoenicia Pei Ling Puay Ying

Qian Ci Quraisha

Rui Ting Rachel Rui ting Ranjini

Sprint Sharon bugger Sarah Shirley Syairah Sheryl Serene Si Rong Si Yun Swastruck Sylvia

Tay Lin Tiffany

Victoria Valerie Venice Vicky

Woei Jiun Woei Chyi Woei Ling Wei Xuan Wei Xin

Xin Lin Xiu Ming Xi De Xiu Hui Xiu Qi

Ying Xin Yoke Kwan Yan Ting Yu Yun Yu Hui Yun Jin Yu Jun Yu Jia

Zariel Zi Yun Zhan Rong Zhi Xiang




Archives

gone with the wind

»March 2007
»April 2007
»May 2007
»June 2007
»July 2007
»August 2007
»September 2007
»October 2007
»November 2007
»December 2007
»January 2008
»February 2008
»March 2008
»April 2008
»May 2008
»June 2008
»July 2008
»August 2008
»September 2008
»October 2008
»November 2008
»December 2008
»January 2009
»February 2009
»March 2009
»April 2009
»May 2009
»June 2009
»July 2009
»August 2009
»September 2009
»October 2009
»November 2009
»December 2009
»January 2010
»February 2010
»March 2010
»April 2010
»May 2010
»June 2010
»July 2010
»August 2010
»September 2010
»October 2010
»November 2010
»December 2010
»January 2011
»February 2011
»March 2011
»April 2011
»May 2011
»June 2011
»July 2011
»August 2011
»September 2011
»October 2011
»November 2011
»December 2011
»January 2012
»February 2012
»March 2012
»April 2012
»May 2012
»June 2012
»July 2012
»August 2012
»September 2012
»October 2012
»December 2012
»January 2013
»February 2013
»March 2013
»April 2013
»May 2013
»June 2013
»July 2013
»August 2013
»September 2013
»October 2013
»November 2013
»January 2014
»November 2014
»December 2015