hopelessly hopeful,
Wednesday, 29 April 2009
(: (: (: smileys for today 'cause i'm happy beyond words
boredom from socialstudies lessons got wiped out because p.e. was ultimate fun, 3/1-4/4 captain's ball is the best :D yes though we all suffered multiple injuries here and there, it was still a fantastic game ( right suxian? )
hist lesson, may have been the worse lesson in the day, physics after recess (: I CANNOT BELIEVE IT I ACTUALLY GOT 20/25 FOR PHYSICS, :D REALLY GOD'S GRACE (: and math lesson marked the end of day
SRP after school all the way till 5+, and i'm glad i decided to study in the school lib, 'cause i actually managed to get work done, cleared math and alot of physics wksts. danced, and headed to pepperlunch with momo and xiuming, hahas i think we were really retarded there though. ( thanks for carrying my vaio and geog file the both of you (: )
had to walk home myself at 7.30, sad :( 'cause i was lugging my heavy heavy geog file and vaio home and i had to walk from bowen home, :( and i have no idea why but the lights in the park were all out, so it was a super super terrible experience.
let's all mug for SA1 nerds and nerdettes (:
and happy birthday to my belovedd zhiling dearest (:
Lots of ♥, Cheryl
casting aside all inhibitions
Monday, 27 April 2009
longgggg monday today, didn't have much lessons though, history period got taken up due to the draggy assembly, geog period was free period, only had 1/2 a chinese period due to classphotos :D recess break, and english was kind of like free period due to the massive number of missing people due to class photos and math lesson was nothing much, physics was cancelled,
OKAY DARN I DIDN'T LEARN ANYTHING IN SCHOOL.
after school was danceeeeeeee ( yes my legs hurt like crap now. please remind me to stretch next time we're going to dance for 3-4hrs tyvm (: ),
and to all my lovelies from 3/1'09, please spam the class with your baby photo's tmr (: then we'll have a whole noticeboard full of 47 cute and chubby babies (:
photos from yesterday (:
Lots of ♥, Cheryl
though hope is frail, it's hard to kill.
Sunday, 26 April 2009
random photo.
AJTC girls (: ( no claudia though :( )


sunday with service ( finally ) hahas, enjoyed spending time with my lovely lowlies :D hahas, and all that stupid nonsense with moosewoman ( halo and the moon's the best darhling (: ), left for family lunch first, before i headed home to muggggg. ended up mass clearing my table for most of the time and studying for the rest,


back to simei for edina's bbq (: believe it, i helped to prepare the food though i didn't do much. ate alot ( maybe just in my def. of alot ), and off to wiii. i can't believe how retarded we were playing wii at cmdr chong's house, hahas, great/funny experience though, nvr knew the people around me ( w exception of pearlene ) were retarded,


well spent sunday though (:





Lots of ♥, Cheryl




i'll love till there's nothing left,

Saturday, 25 April 2009






Lots of ♥, Cheryl




my mind's a blank,

Friday, 24 April 2009


update for this crazy week (:

wednesday,

CONGRATS CHINESE DANCE FOR GOLD W HONOURS FOR SYF (:

i would have to say it was the craziest day of my life filled with so many many many casualties,
captains ball with 4/4, exciting game (: but xiuhui got injured, take care dearr. lessons were boring and dull as usual, though our craze for the whole day were the new pigeonholes in class (:




yes we got it spammed with our books at the very first moment we saw it (: as usual 8 hrs of lessons, and bio prac was coolio (: hahas liver experiment, and omg another casualty, yunchuan cut his hand... take care tooo :D chem test marked the end of the day,

pepperlunched with momo, shingyi and christopher (:

thursday (:

pathetic 6 hrs of lessons, 'cause first 2 hrs were nonsense, spent lunch period mugging chem in council room.

friday,

happy day, cause we end school at 12.40 (: hahas and i freakking know how to do math (: hahas, had guides meeting ( proposals and dance till 3+ ) and take care mingzhen (: headed to amk hub with some guides, peperlunched again, i miss spending time with the guides talking abt kuku topics ( tsk tsk, it's our secret ) and being stupid retards at AMKhub. @ fairprice with them, is the new loveeee.

I NEED MORE MOOLAH ASAP.


and i suddenly miss the two kukus in the photo.
Lots of ♥, Cheryl
the first cut is the deepest,
Tuesday, 21 April 2009



CONGRATS TO NORMAN FOR PASSING YOUR DRIVING TEST,

CONGRATS TO DRAMA FOR GOLD FOR SYF (:




today was probably the longest day of my life, i swear 8hrs of serious lessons are enough to drive me insane, lessons are boring i swear, and i think i'm on the verge of insanity 'cause i did like almost close to 4 hrs of math work today. coordinate geometry to alpha and beta and physics.




novels really made the day interesting, but still 8hrs of lessons was terrible. after school, headed to novena with jaini to b&j's for free icecream, and darn the queue was longggg ( should have take a picture ) , and we just ended up buying the icecream instead, yes $4.90 is worth it for the icecream instead of having to queue for 2hr+.




trained and walked home with jaini (: yes let's mug for chem tmr (:





Lots of ♥, Cheryl




steroids for your memory

Monday, 20 April 2009


DANCE IS KILLING MY LEGS, YES THEY ARE SUPER JELLY LIKE NOW.

1. i'm just starting to dread school, and the huge massive piles of work.
2. i hope i get better at math soon,
3. i need to learn the stupid dance asap.

let's just pray i get through this week alive.


with love, cheryl.
Lots of ♥, Cheryl
i'll be fine, i swear.
Sunday, 19 April 2009
i think my crazy habit of on-ing the aircon this month is going to cause my electricity bills to rocket. but honestly, temperatures have been sky high this month, and it's darn hot, so in order to study in a condusive environment, aircon's have been invented along with expensive bills.
long day today, children's ministry today, energy got drained away by all the crazy hyperactive kids, headed to cell for worship before i headed over to touchcentre, helped out a little and then bused down to bethel, yes 1 hours wait for them, heart to heart talk with jonathan while waiting, and i realised the need to prayyyy for my future.
trained down to kallang before cabbing to the leisure centre and meeting the rest (: I MISS ALL THE GIRLS ALOT (: AND I'M GLAD MOST OF US COULD MAKE IT ( CLAUDIAAAA WISH YOU JOINED US )
ended up bowling and dinnering at kfc (: hahas yes where someone got tricked into almost ordering mcchicken. hahas, pohmayting :D and once again, thanks xide for the ride home (:
i hope yoghurt has the ability to take away emoness,
Lots of ♥, Cheryl
and i'll flood the world with love,
Saturday, 18 April 2009

this has got to be the most boring saturday of my life, was marooned at home for almost the whole day because of the stupid NHSS interview at a super awkward timing. Kept myself occupied with doing homework and reading novels, left the home at 12.45 to meet mummy for lunch @ cafe cartel. ran into many familiar faces at j8 ( alvin, fadzly, atiqah, aqilah (: ) , omg i miss the kuku in the photo alot. BITCHBO :(:(:(



met gohtianning and reached RJC at 2, and the campus is darn big, we found a lost wallet and it's owner (: preperation for interview was suckkky, 'cause my mind went blank, still, got it over and done with though i can't seem to remember what answers i gave to the weird questions.

i'm going to mug now so that i can attend ajtc outing tmr (:

--------------------------------------------------
updates for the whole past week:
monday; elementz judging day (: GOLDGOLDGOLD
tuesday; elementz exhibition ( heart to heart chats with many (: )
wednesday; speech day rehearsals
thursday; prize presentation for elementz :D


hahas thanks for being such a patient and nice mentor to us, i guess our gold wouldn't be possible w/o all your help and we might not have even made it in time for the competition.





Lots of ♥, Cheryl




too little too late,

Friday, 17 April 2009




disclaimer: photo spammzxzx

I LOVE SPEECH DAY CAUSE WE ENDED SCHOOL AY 9.40, HAHAS THOUGH WE HAD DUTY TILL 8+, decisions made between watching movie/mugging+windowshopping, (: ended up picking the latter and headed to amkhub with jaslyn (:



walked around hub for abt 2 hrs before NEBO finally opened and went there to mug/ eat/ camwhore (: hahas refer to tons of retarded photos below, original plan kind of blew with the idea of studying ( did some biology revision (: ), hahas but ended up playing more than studying, and jaslyn was flooding my phone's cam with retarded pics, yes 84 in total





hahas, and this kuku above was being ultra retarded herself making me paper phrases, paper geek specs and heart shapes (:




speech day was exhausting, having to do stuff like running everywhere, cleaning chairs, stacking chairs and welcoming guests, but i guess it went well (: and ASC seniors came back ( like ohh myy gawddd, krystalle is super pretty :D )

I LOVE ASC TO THE MAX.





Lots of ♥, Cheryl




we'll see better days ahead (:

Tuesday, 14 April 2009


HELLO IT'S 3.30AM NOW AND I JUST FINISHED STUDYING FOR PHYSICS TEST AND DOING THE STUPID CHINESE ZUO WEN (: I WANNTTTT TO SLEEEEP.



Lots of ♥, Cheryl




you belong with me,

Monday, 13 April 2009


OMG, SYLVIAKOHKIAYING MY FAT BIMBO GIRLFRIEND LOST AND FOUND HER WALLET IN THE SPAN OF A DAY (:

yes today was the big day we, the bionerds, have been working so hard for (: hahas ELEMENTZ upper sec science competition


realeased from class at 8.40 and started preperation till time for the competition (: hahas, i think that there's something wrong with me 'cause i wasn't stressed a single bit for the presentation, GOD'S GRACE (:

SUSPENSE FROM WAITING FOR RESULTS KILLS.

4.45pm --- omg, finally nervous after so much
5.00pm --- sleepy but can't sleep, 'cause results come out in an hr
5.18pm --- darn, why can't time pass faster, i want the results
5.57pm --- 3 more mins, 3 more mins
6.00pm --- yays (: results time
6:13pm --- ehh, why results haven't come out yet
6.49pm --- okay, i'm bored.
6.54pm ---- oh my gawddd, gold :D:D:D

to my darhling bionerds, the stupid gay, momo petbear and joyce bulldog (:

the past 5 months have been crazy and hectic, spending almost everyday after school tgt in our lovely second home ( the microbio lab ) carrying out experiments, plucking leaves, mixing chemicals (: we've been totally liveless the past few months just doing all of this, but still i guess all this hard work has paid off :D

LIKE IT'S GOLD FOR HEAVEN'S SAKE (: HAHAS I LOVE ALL OF YOU DARHLINGS (:


Lots of ♥, Cheryl
a spark out of the blue,
Sunday, 12 April 2009
ain't tianning the cutest (: hahas,
HAPPY EASTER EVERYONE (: had a real awesome and well spent day today, headed to church to children's ministry in the morning, and really felt the joy of serving this week after dreading over it for the last few weeks. cell group (: played with jeanelle ( photos with yingx ) hahas, she super adorable (: lunched with debozo.
headed over to bethel but stopped at the library first, met allison, elhannah and pearlene at bethel, hahas service there was great, nice video, amazing skit ( hahas, i still can't get over jake's ridiculous actuing skills and shawn in npcc uniform ) great job bethel drama team people (:
i'm glad the people at bethel are real hospitable, and that i was able to click with almost each and every one of them (: but the real unbelievable part is how they all think i'm like olddd, :( hahas, dinner at bugis with changxiang, dilys, norman and leon at ajisan before bus-ing home (:
I LOVE HOW GOD ALWAYS FINDS A WAY TO WORK IN MY LIFE. TO THINK THAT FEW MONTHS BACK I FELT DESOLATE LIKE NO ONE REALLY CARED ABT HOW MY LIFE WAS, BUT THOUGH THE PAST FEW MONTHS HAVE BEEN LIVING HELL FOR ME, I'M GLAD THAT MY GOD IS BIGGER THAN ALL MY PROBLEMS AND HE HAS PLACED SO MANY WONDERFUL PEOPLE IN MY LIFE TO MOTIVATE ME AND KEEP ME GOING ON.
I GUESS MY LIFE HAS CHANGED TREMENDOUSLY, AND NOW I'M JUST SO GLAD THAT I'VE FOUND A PLACE WHERE I BELONG, AND I'M JUST SO BLESSED TO HAVE SO MANY PEOPLE WHO CARE FOR ME (:
Lots of ♥, Cheryl
i would die for you,
Friday, 10 April 2009
take away all this sorrow,

DARN. I'M ALL EMOTIONAL FROM WRITING MY LITTLE ESSAY ON DANCE.


spent the day at home clearing homework, reading and dancing (: kinda bored the whole day though, hahas, and i've no idea why i'm still posting at such an unearthly hour,


btw, to all rosyth alumni ( yes it sound nicer than exrosythians )

Event: SILVER@ROSYTH ,"Celebrating 25 years of GE@Rosyth"
What: CarnivalHost: Rosyth GE
Start Time: Saturday, July 4 at 8:30am
End Time: Saturday, July 4 at 5:30pm
Where: Rosyth School
hahas 60306ians, hope to see you there (: want to catch up with all of you (:



Lots of ♥, Cheryl




and he made the greatest sacrifice,






happy good friday everyone :D yes hahas once again i'm reminded of how awesome god is, to think that he made the greatest sacrifice for all of us. re-assured once again that as long as i trust in him, he'll take away all my sorrow in exchange for joy (:
spent the day out at vivo with momo and xiuming (: hahas was supposed to do srp, but couldn't cause that stupid makwaisiong went MIA, and i was just plain lazy to lug my laptop out of the house,
lunched at ljs and did some math work before we went to find eileen who was there (: hahas, yes i bumped into alot of people, tasmann, mrs poh and alicia sweetheart (: went shopping though, hahas spent a lot, well there goes my moolahhhh, save up save up :D
caught fast&furious4 hahas, not too bad a show, though the two sadistic people sitting beside me kept laughing at sadistic scenes ( right momo and xiuming? )
with love, cheryl
Lots of ♥, Cheryl
for all my days,
Tuesday, 7 April 2009
i'm back to blogging after staying away for so many dayys,
life's been packed to the max with endless amouts of homework to clear along with powerpoints and scripts to edit due to srp. thank god it kind of somewhat ends here today :D hahas,
term1 stats today (: hahas 3/1'09 is the best manzxz, 9certs in total = we topped the level 9times tgt as a class :D i lovveeeeeee 3/1'09 :D
lessons were as per normal though we got spammed with loads of homework for this good friday holiday, hahas yays :D out tmr with bionerds to watch movie/shop/practice/do homework, hahas.
SCIENCEEEEE :D HAHAS, ( GIVES NERDY GRIN )



Lots of ♥, Cheryl




lost in this sea of emotions,

Monday, 6 April 2009


MOMO MONDAY (: AS SAID ON (98.7FM)

1. homework is piling up, 5 english compos, 5 english compres, 2 math wksts, physics, chem, ss, and basically every other subject
2. i'm glad to finally be able to settle those little misunderstandings (:
3. socialstudies nearly killed all of us



Lots of ♥, Cheryl




and the world is ours to conquer.

Sunday, 5 April 2009




i just realised how much i need you, i can't bear to lose you.
ss model essay in my brain. (edits later)

i think i finally know how to complete the square (: hahas thanks norman ( for the two cd's too ) . :D and my brain's on the verge of exploding with all that socialstudies to memorise,



Lots of ♥, Cheryl




with both fingers crossed,

Saturday, 4 April 2009



HELLO :D YES I HAD A LOT OF FUN ON THIS LONG AND TIRING DAY,
headed to church at 11 and helped setting up at 12, lunched with the er's and carried out games day :D hahas, great learning experience and i loved the interection with the super adorable kids (:
ZEROPOINT is my craze for the day (: hahas, 'cause we had an awesome time playing it in the room (: hahas
dinnered at bugis(ajisan) with elhannah and pearlene :D
Lots of ♥, Cheryl
i thought that it would be different with us
Friday, 3 April 2009



omg, i loveeee this picture :D hahas,


i'm glad this killer week is over, 'cause i need a break. seriously. this week has been crazzzyyy, from having extra-extra lessons, to plucking grass, to having three science practicals in one day, i'm on the verge of going nuts.


yesterday wasn't really the best day of my life, i was deaddd tired and lessons almost killed me, imagine 4hrs of 3 different sciences which include 3 different practicals in 3 different labs. hahas, that's what i went through. and receiving 5 sets of english comprehension didn't really add to the 'joy'


today, rushed through everything, school to meeting, meeting to lessons, lessons to experiment, experiment to guides. got lost in math, really honestly lost, i need to understand and comprehend before i kill myself in SA1.


(HAHAS AND THAT SYLVIAAAA :D HAHAS FAT BIMBO GIRLFRIEND :D )



Lots of ♥, Cheryl




'Cause you were trying to take control of me

Wednesday, 1 April 2009



happy april fools everyone :D
i got pranked bright and early in the morning ( yes courtesy of norman ), headed to school praying/wishing that the day wouldn't be as terrible as expected. and it's awesome how god works, 'cause my prayers seem to come true (:

social studies lesson flooded my mind with information, it's been such a long time since any lesson did, and pe was fun :D hahas i like playing rounders if i'm the fielder, 'cause it just involves running and throwing the ball instead of batting it, which i can't do well.

AND OMG, I CAN'T BELIEVE I'M THAT UNLUCKY TO HAVE TO HAVE MY MATH FILE SELECTED FOR FILE CHECK. YES BOTH ADDMATH AND EMATH. COMPLETING ALL UNDONE CORRECTIONS FOR IT IS NUTS. SERIOUS SERIOUS HEADACHE THANKS TO THAT.

captains ball for 1.5hr for guides instead of discussing campfire proposals ( okay we did that after guides ), the game was violent to the max, and i fell like many times ( once was my fault ), and i've got many scrapes on my leg now :( sadddddd

thanks sharon, shihui and peijun for playing a big big april's fool joke on us. hahas, it was quite convincing though, (:

headed to bishan lib for my thriller novel :D and shopped at cotton on :D hahas, back to studying now, mathhhh, mathhhh and more mathhh.
Lots of ♥, Cheryl
Adverstisements
nuffnang
Profile
cheryllsw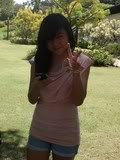 ♥ cheryllimsuwen, 29/11.
msn | facebook | tumblr | twitter | bucketlist | 365project| OOTD| fashion blog|

For beautiful eyes, look for the good in others; for beautiful lips, speak only words of kindness; and for poise, walk with the knowledge that you are never alone.
audrey hepburn



Affiliates

you're on your way

603 603 1/3 2/3

A Guides ASC Adlyn Angie Aqilah Amadea Adeline Aleithia Aubrey Amanda Aloysius Ariel Adalie Allison Amanda Athirah

Brandon Becks Blodwen Boon Hui

Cell blog Charmaine Connect Cherine Chen Teng Cheryl Calista Celeste Casmelin Colin Chun Rong Cara Cheng Ce Chui Shan

Damian Dilys David

Emily Elhannah Ethel

Finn

Guo Zhang Gabriel Glenice Gerald Gina Gloria

Haililly Hui Fang Hui Ling

Izzah n Anna

Jetaime Jun Xuan Justin Jaslyn Jasmine Jesslyn Jin Hong Jing Yi Jia Ning Janice Jassy Jerald Johnathan Jing Fang Jaini Joshua Jing Wen

Kevin Kellyn Kristine Kuan Ting Kelly

Lovel Louisa Liting Leon Lynette

Melvin Magdeline Ming Zhen

Nafeeshah Natalie Nicholas Norman Nichola

Pearl Pei Shi Phoenicia Pei Ling Puay Ying

Qian Ci Quraisha

Rui Ting Rachel Rui ting Ranjini

Sprint Sharon bugger Sarah Shirley Syairah Sheryl Serene Si Rong Si Yun Swastruck Sylvia

Tay Lin Tiffany

Victoria Valerie Venice Vicky

Woei Jiun Woei Chyi Woei Ling Wei Xuan Wei Xin

Xin Lin Xiu Ming Xi De Xiu Hui Xiu Qi

Ying Xin Yoke Kwan Yan Ting Yu Yun Yu Hui Yun Jin Yu Jun Yu Jia

Zariel Zi Yun Zhan Rong Zhi Xiang




Archives

gone with the wind

»March 2007
»April 2007
»May 2007
»June 2007
»July 2007
»August 2007
»September 2007
»October 2007
»November 2007
»December 2007
»January 2008
»February 2008
»March 2008
»April 2008
»May 2008
»June 2008
»July 2008
»August 2008
»September 2008
»October 2008
»November 2008
»December 2008
»January 2009
»February 2009
»March 2009
»April 2009
»May 2009
»June 2009
»July 2009
»August 2009
»September 2009
»October 2009
»November 2009
»December 2009
»January 2010
»February 2010
»March 2010
»April 2010
»May 2010
»June 2010
»July 2010
»August 2010
»September 2010
»October 2010
»November 2010
»December 2010
»January 2011
»February 2011
»March 2011
»April 2011
»May 2011
»June 2011
»July 2011
»August 2011
»September 2011
»October 2011
»November 2011
»December 2011
»January 2012
»February 2012
»March 2012
»April 2012
»May 2012
»June 2012
»July 2012
»August 2012
»September 2012
»October 2012
»December 2012
»January 2013
»February 2013
»March 2013
»April 2013
»May 2013
»June 2013
»July 2013
»August 2013
»September 2013
»October 2013
»November 2013
»January 2014
»November 2014
»December 2015