fight to the finish
Monday, 31 August 2009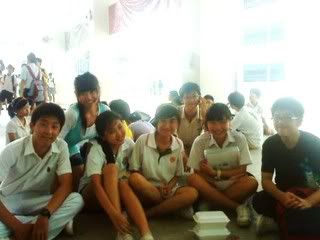 yesterday;
slept at 4am+ after editing all the videos and dry runs in the morning before the actual concert, headed back to rosyth with momo, zhixiang and shingyi. meet my 603ians and went for a movie with sherman, yurui and minghao. oh god, i nvr expected to see yurui jump onto sherman during the movie and chiaminghao to be such a wimp.

pictures from the cell transition lunch :D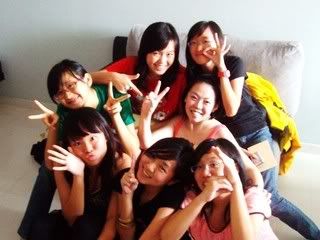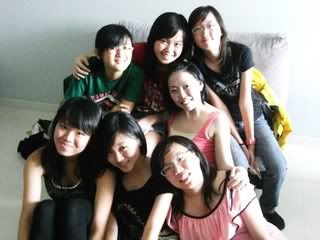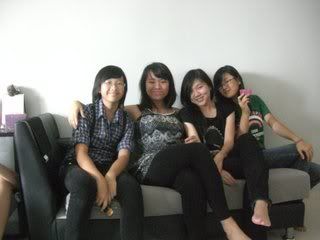 Lots of ♥, Cheryl
would you break free and dance in this love.
Sunday, 30 August 2009
omg. i've got so much to blog about.
friday;

captains ball and i think i'm super unlucky cause i kept bumping into kuanting who was super perspiry, and i kinda managed to get back injuries. math was a shocker, 29/40 for add.math, after school presented socialstudies and stayed back for rehearsals again, macs with donovan (son), suen (laogong), sharmini (maid), quek(wife). bused home with quek and walked home.
saturday;
parent child day :D

well, spent the morning at raffles place mrt with the twister mat and the rest of the rangers, people were amused by us playing twister in the middle of the cbd area. soup spoon for lunch and we went on a massive search for starbucks when it was right in front of us. starbucks signature iced choc :D went back to church and helped to set up the bbq fire and i'm super awesome to step on a burning piece of charcoal , and supper at prata house after that.
sunday: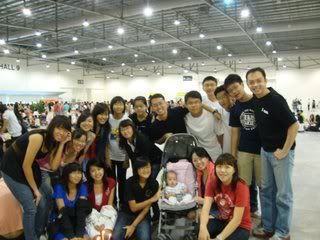 davids club in the morning (: i got teachers' day pressies from the kiddos :D , transition lunch in the afternoon at shirley's house, went to daiso @ps with cellies and met jonathancuzzie there. went to bugis central library and went to get the balloons for teachers day deco and home fore loads of video editing and homework doing.




1:47am, video edits video edits video edits.

2:38am, i'm a retard cause i left my chem textbook in school and i'm supposed to do my chem assignment 2 now, i'm lost beyond words, bio textbook's in school too so i can't do the essay either, it's not right for me to be headachy for a whole week right? great. now i feel nausea and i swear there's a splinter somewhere in my pinky.



Lots of ♥, Cheryl




i won't look back at those mistakes i've made

Thursday, 27 August 2009




i don't know what's happening anymore, but honestly, you can just get out of my life, 'cause i've been fighting in the hope that everything would end up okay, yet time and time again i still end up with the same questions and answers i started off with. i'm reaching my limit.

school has been utterly insane, can't seem to understand my math at the crazy speed he's moving at. but thanks conrad for volunteering to dig up his math stuffs to teach me :D i feel like giving up on mole chapter for chem and the homework load for 3/1 is really slowly killing us.

teachers' day has been taking up the free time that i've got and my vaio hasn't taken a real break for the past week. my axe oil and panadol supply has been depleting at a rapid rate considering the blatant lack of rest and the number of meals i'm missing, think i'm losing weight at an absurb rate.

thanks shingyi, yongliang, momo and kuanting for being such retards and making me laugh in class even when i didn't feel like it and chiwen, celeste, amicell, serene and elsie for being such dearies and constantly spamming me your encouraging messages (:






Lots of ♥, Cheryl




for he could be the one,

Tuesday, 25 August 2009




and i can't help but wait, you're blowing me away.

past 2 days have been insane, hardly getting enough sleep or any time to take a break.

yesterday, school and lessons for six hours and EXCO council meeting after school where we got the darn heavy responsibility of finishing up the souvenirs, so headed down to taka with kuanting and jingwen then to bras basah before we bused home tgt on 80.

today, 5hrs of science today and i almost died of fatigue during lesson. my geek specs managed to help to keep me awake, and all the weird funnaye comments i got from everyone. rehearsals started at 5 and ended at 7, left school at nearly 8 and went to popular with jingwen and kuanting before bus-ing home.

my finger's scalded and i'm having a bad cold.





Lots of ♥, Cheryl




playing with fire,

Sunday, 23 August 2009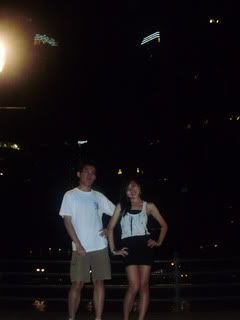 where's your sense of dignity,

having the food sale with the ER's was amazing and awfully fun, 'cause everyone was so encouraging and helpful, yes i love my ER's to the max now, and making muah chee with pearlene toh is darn fun :D and i'm sry leon for constantly splashing water over you in the kitchen while washing up all the utensils.

but the real spoiler came from naggings everywhere with stupid comments on how we're sitting around doing nothing even though we just finished up something else. honestly, i can't be bothered to care anymore. couldn't give my 100% for the youth service so i headed home for fcbc's online service and to finish up my videos and proposals.


Lots of ♥, Cheryl
it's a lot to be something i'm not.
Saturday, 22 August 2009
life is a maze and love is a riddle.

bethel's youth anni carnival today (: went shopping in the morning at orchard with ws, before meeting the rest at 1.30 to head down to marina barrage, hahas. took the shuttle bus back to the mrt station with andrina and met the rest before heading down again :D spent the whole afternoon there, and i'm real awesome i've got specks of tiny little blueblacks over my legs now from carrying the table.

poster making with the other 9 :D yes we completed it, support us at the food sale @ bethel tmr, tyvm.

my head's hurting like total crap again but i've got to do my crazy video editing and whatever nonsense i've been assigned to do,
p/s. you care in the most subtle of ways.

Lots of ♥, Cheryl
you're playing mind games with me,
Friday, 21 August 2009
when i lose myself i think of you,
common test for term3's done :D days started with p.e. and i finally ran today in captains ball with 4/4, and kuanting still kept up with calling me bimbo throughout the whole game. addmath test and chinese lesson before biology and CI.
guides was awesome today, hahas juniors made me laugh a lot, and i'm so so sorry for blending that terrible drink for you guys, hahas :D
Lots of ♥, Cheryl
it'll just happen all again for you,
Thursday, 20 August 2009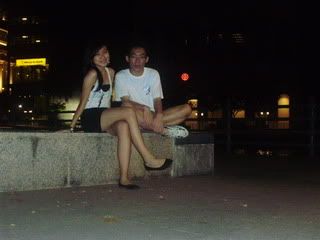 and show me what you've got.
i'm glad the nightmare's over, morning started with biology students cramming biology everywhere, received biotech fair cert before having math lessons and the crazy english language practice and kennethsoo's rants about how big my bag is, recess was bio cramming period in the canteen, bio test and chem cramming sessions during geog and physics before the test :D
lunched @ 4+ with tianning, huixiang and joyce, helped the noodle auntie serve all her customers, met stupid donald duck dean wong and his kuku medicalcert. and met vania at AMK to take 25 back tgt (: and jiaqin's umbrella saved my life cause it started pouring on the way home,
okay add.math test tmr, and i'm done with term 3 common tests, (:
Lots of ♥, Cheryl
seizing each day,
Wednesday, 19 August 2009
despair controls the hearts of many,
quick post before i continue my mugging spree,
happy birthday shingobingo :D
1. i hope i didn't screw up my english grammar test,
2. math sucks when he rushes through it awfully fast.
3. we finally got hist homework to do
4. plenty of council vid's to be done.
5. i love my sec 3 guides :D no more tears alright.
6. peijun is my bimbo sister
7. bio and chem is killing me. ( yes i hate chem like crap now. )
8. i can't breathe properly again.
9. okay, screw the atmosphere and environment. study tmr :D so i'm done.
excretion, respiration, plant nutrition, mole chapter, atmosphere and environment, salts
Lots of ♥, Cheryl
you're in my head like a song on the radio,
Tuesday, 18 August 2009
everything's starting to cave in and consume me.
i don't think you can ever understand how much courage it's taken me to do this much, i've pushed myself to the limits that i'm starting to lose hold of everything i believe in. and i've got to pull away now before i get stuck too deep to pull myself out of this sweet disaster.
school as usual, nearly sprained my ankle today and so now my ankle area hurts like total crap, had lunch with kia and chingyee before heading for biology spa trial (trial?) and cabbing home with them :D
i need inspiration for teachers day video, someone save me please?
Lots of ♥, Cheryl
where dreams come alive
Monday, 17 August 2009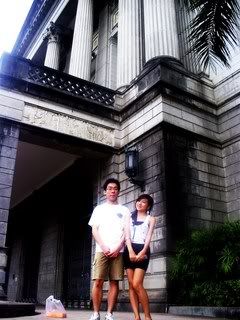 'cause we used to be stronger.
monday blues for everyone back in school, first few periods were spent recapping geography and doing math, went down to support the PSG food fair the brownies were awesome (L) had chinese lesson and then geog test ( thank god i studied about kalimantan. ), chemistry experiment and biology briefing before heading home (:
i'm addicted to the songs what if (ashley tisdale) and next to you (jordin sparks) :D
to do list:
math 3d wkst, chem mole chapter, physics wkst, biology essay, english wksts.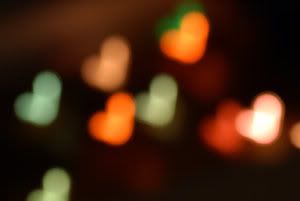 Lots of ♥, Cheryl
the best of miracles,
Sunday, 16 August 2009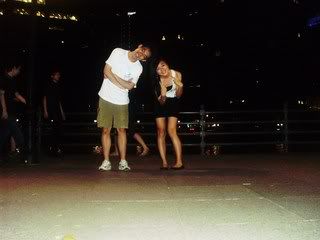 yesterday (:

spent the morning mugging away, afternoon at rangers and evening at the art's house to catch SPLAT: picking up the pieces and supporting our dear eileen, (: walked around singapore river with waisiong and took photos :D

today,

HAPPY BIRTHDAY VANIA :D

service, altercall and cell. praying for yingx really sparked in me again. stay strong deariee (: we're all in this together and we'll always be there for you no matter what happens (:

i swear, cramming for geog really really sucks, hmmms, but i need to frigging do well in the rest of my subs till i finally get to poly, so i guess i have no choice but just continue cramming.

p.s. you don't have to pretend that you care when i know that you don't.






Lots of ♥, Cheryl




would you be the one i run to?

Friday, 14 August 2009


i have to admit, today was an emotional rollercoaster and it made the whole day seem so awful.

school as usual, got more nonsense thrown to me to do and it seemed real stupid how everyone needs to live up to the expectations of others, honestly i can't be bothered with it anymore, i'm tired.

rants the whole day, and p.e. was the only thing that kinda brightened up my day, because momo was being such a retard and so was kuanting ( and stop calling me bimbo all the time. ),

darn. day just got worse till i decided to lock myself in council room to study for 3 hrs till cca started, and as much as i hate my cca, i love my fellow guides (: such darhlings helped to make my day slightly more tolerable, thanks dearies for willing to give up on bbt to walk me to amk mrt station (:

dinner at nyny, and talks with my mum and dad these past few days made me realise how fortunate i am and how it is somewhat my fault certain things have happened. headed for the funeral, and met familiar faces from bethel there before i headed home and forced myself to sleep to get rid of all unhappy thoughts.

anyways for sylviakohkiaying gf dearest:
get well soon, and stop being sucha klutz and injuring your knee, :D see you next week pinky.



Lots of ♥, Cheryl




higher than paper aeroplanes

Thursday, 13 August 2009





currently: obsessing over angels and demons ( both book and movie ), and i'm upset 'cause both versions are blatantly different, i'll be moving on to eclipse next (:

seriously, blogger is driving me nuts. everything keeps screwing itself up.

and i don't know why but i keep wondering why i'm in 3/1'09 and not in some other random class, but anyways, bethel's youth anni's on 22nd aug from 1.30 - 6, approach me, jesslynn or zhanrong for more details (:

i've got to study, i've got to study, i've got to study.

1. all three sciences today again and 4 hrs worth of them.

2. week 8 is totally screwedd with the crazy test schedule.

3. ewww falsies.

4. SPLAT'S on saturday :D those who haven't bought tickets, please support.

5. i'm trying to look for new songs now,

6. there's a frigging math test tmr,





Lots of ♥, Cheryl




where troubles melt like lemon drops

Wednesday, 12 August 2009


HAPPY BIRTHDAY SWEEHWA :D

i'm glad, for now. i'm thinking of happy thoughts and i didn't screw up my summary test, i've got my hot pink book, i finally finished reading my first e book, there's supposedly a meteor shower tonight and i feel like an idiot standing in my garden try to look out for it when i'm supposed to be mugging physics.

marked and failed many many testwork/badges and $8.95 feels somewhat of an improvement, considering it took three months to get this back, well i've got to wait for my $200+ to come back,

I CAN'T BLOODY SEE ANY METEORS :( OH WELL. THE STARS ARE PRETTY THOUGH.

and what doesn't kill us makes us stronger.

currently: dissapointed with myself.

i help but look back to january in search for the girl that i once was, those countless promises i made to myself to fulfill, i'm falling short of everything i've set out to achieve. constant reminders of how i'm not a failure keeps flashing through my mind, and i just need to find the strength to pull through this time.



Lots of ♥, Cheryl




under my skin,

Tuesday, 11 August 2009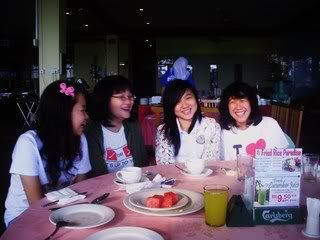 i don't know why, but my head feels like it's going to explode soon, it's throbbing like mad now, and i can't seem to do anything about it, please someone kill me.
it's utterly insane how school works, because we had 6 periods today, 3 of which were the 3 sciences and 2 hrs worth extralesson consisting for chemistry and history, and my lunch break was used for exco meeting with ms.sharm and the 9th exco,
went book shopping at amk with megaloser and kovan to get flowers for mummy and daddy's wedding anni, and the roses are darn pretty (L), talked to chiwen on the way home and had 1.5hr of tuition.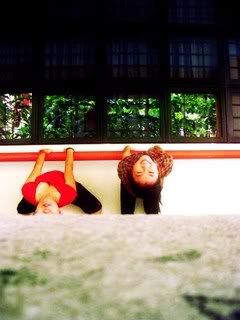 Lots of ♥, Cheryl
happy 17th :D
Monday, 10 August 2009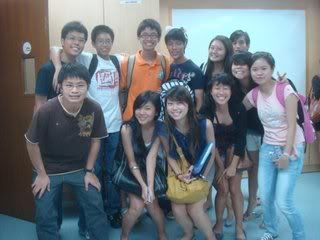 happy birthday third/third!






yes joshuapehyongkiat, my third/third brother, i think we really go quite a long way back, and i can still kinda remember working for my BMA along with you, shawn and ally back in 2006, you've been quite an inspiration to me though you're constantly making fun of my height issues and making up new ridiculous nicknames for me every few weeks here and there,






but anways, have a blessed 17th birthday (: god bless.





Lots of ♥, Cheryl




aspirations


i'm intoxicated for now,

CGT was awesome, thanks cmdr chong poh and linda for the ride there and back to church (: auntie sweehar and shuyu for planning this, norman for his jacket on the ride back to s'pore, andrina for her muffin, all the ER's for letting me have a hell of a time there and xide for the ride home :D

today,
meet cx and conrad in the morning, before heading home to grab some homework stuff and taking norman's car to his place to mug and prepare for filming (: i swear noel's adorable, hahas, and i finally know where norman gets his genes from.anyways thanks for cabbing home with me :D



Lots of ♥, Cheryl




you're my current state of confusion

Friday, 7 August 2009




and i can't bring myself to deny it,




you're the only one that can make me lose my train of thought,




you're the only one that i can trust and confide in,




you're the only one that i'll continue caring for no matter what the circumstance,




it's just something i can't comprehend,




but there's just something about you that i can't seem to get over,




i need to break away from being so reliant on you,


this is a scheduled post anyway hahas, i'm in jb now probably studying, being retarded with the rest or preparing for the photoshoot :D


Lots of ♥, Cheryl
emotional deception.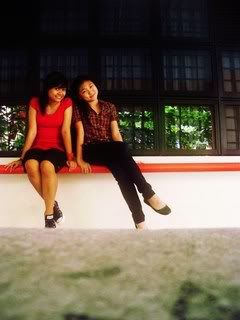 i'm glad this hell of a week is over and tha cgt is tonight so i can finally get away to somewhere else :D
school was bustling with people in red and white today and the i think the parade was awesome though there were some hiccups here and there, so yeap tankuanting, momo, shingyi and johanna :D i think you guys were darn goood. hope my flag raising was alright though.
had the carnival the whole day and spent most of the time selling/making food to sell for the science spec stall and rushing over to the dunking machine when mrC got dunked. help with rearranging the benches in the canteen and stupid hidhir dropped the leg of the bench on my toe, yeap so it's kinda swollen now, and i don't know if i can walk in covered shoe properly.
l4d plans were cancelled again, so met chiwen and celeste for starbucks for a while before i headed home (:
yesterday:
lessons as usual, screwed up physics practical real bad, had ss test where we wrote till our hands hurt and chinese practice paper. 8 hrs of consecutive lessons. then headed down to amk park to meet momo and eileen to practice parade commands till 7.10 when kuanting, tianning and xiuming joined us. headed to dinner before i bused home with kuanting.
Lots of ♥, Cheryl
midsummers dream.
Wednesday, 5 August 2009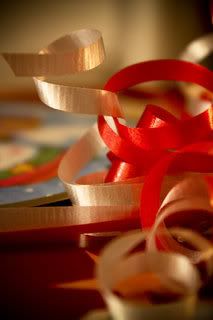 blogger screwed itself in the span of one night.

school,
geog lesson and constant sighs and stupid comments from tankuanting, hahas, english test was terrible i swear, i have to agree, band one english students are darn good at narrative and nothing else. math lesson, break and hist lesson, yes we've got the legendary mrkamal back instead of msR, and daryn became such a bastard after lesson, hahas. titration for chem.

cca,
footdrill and physical training.

i'm in love with peach milk tea now(shrieks!!)
and can someone please point a gun to my head and force me to mug for the test.

todolist:
1. study for ss test
2. do bio homework
3. do math homework
4. do hist. paper
5. do chem wkst
6. study mole

random note: someone once said that circus(britney spears) is a slutty song. tsk,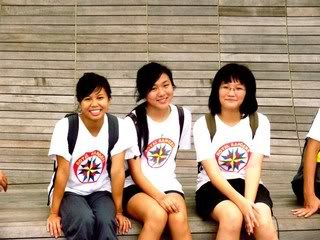 Lots of ♥, Cheryl
sensitive,
Tuesday, 4 August 2009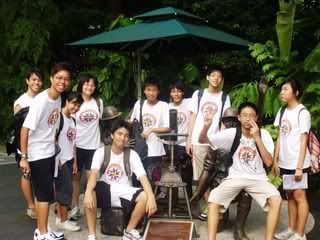 okay i think i'm real awesome 'cause it's 9.54 and i just had my first proper meal of the day. the rest were just random rubbish like shaker fries thanks to eileen who bought it for us (:

i can't believe i made it past today, 4hrs of lessons, 2 tests, 1 hr of extra lesson ,1hr of EFL and nearly 2hrs of tuition. i'm such an sucker for books now, tsktsk. i'm seriously addicted, imagine someone with 7 ebooks in their phone and another one solid book in their bag.

after school at 5, walked with waisiong to yck mrt station to meet mitch to get alyssa's stuff before i trained back to amk and bused home to have tuition.

random note: yays for NDP celebrations on friday, 'cause we get to wear home clothes.
12.38am update:
OMG blogger's finally working properly. i'm in lovee with twitter (locate it under my extra's section) . my head's killing me and so is the stupid burn and i can't help thinking back and missing you for who you used to be.
Lots of ♥, Cheryl
'cause here we go again
Monday, 3 August 2009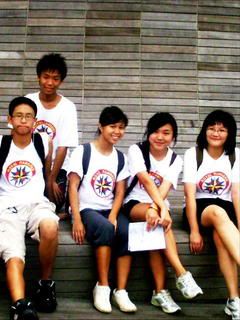 currently;
music: battlefield - jordin sparks
dance track: church
book: digital fortress/the da vinci code
well today has been a hell of a day,
read in school for almost the whole day
headed home to bathe and change before walking to kovan mrt, and i can't believe how crude people can be, was obsessing with my book and new songs the whole train ride, went down to city hall and went shopping :D:D:D
MANAGED TO GET THE VINTAGE GREY AND TURQUOISE ONE I WANTED AT $33 :D
i still haven't found my shoe bag though.
My feet's blistered badly though, and i've got many cuts from unknown sources.
okay i'm off to pack my bag for cgt, tidy up my super messy room and study for chem test :D
OHH BTW THIS IS RETARDED! IMAGINE I GOT APPROACHED 5 TIMES TO MAKE A CREDIT CARD TODAY BECAUSE THEY THOUGHT I WAS NOT SCHOOLING.
Lots of ♥, Cheryl
when loving you's the hardest part.
Sunday, 2 August 2009



down to fcbc early in the morning to do temp duty :D hahas, it's a blessing to wake up early to serve, went to davids to lead worship and everything else, but it's really insane, we need more people to help out!!

went for cell and discussed the changes before training down to eunos and busing back (:

i've got to study 'cause there are 3 tests tmr and i've barely started. (shrieks!)

and since we're so suceptible to change, fear's inevitable and that insecurity that comes with it just numbs the heart. i don't know what's going to happen, and this doubt is just starting to cripple my senses.



Lots of ♥, Cheryl




i don't need to know,

Saturday, 1 August 2009





yesterday.
firstly thanks momo for being such a darhling and helping me hand copy geog notes when i was away :D:D:D
vball for p.e, and i have to admit, bimbo's and vball don't go well together, the game was retarded to the max and i think the others laughed loads at me for being such a bimbo, but oh well, i managed to hit the ball sometimes, ohh and i'm 158cm now :D yay i grew.
lived w/o my book for 2 periods before i went to get the digital fortress book and read it for the rest of the day,
SHAKER FRIES!!
down to macs with the 3/1 people, and suddenly tim asked me this,
tim:"how old are you"
cheryl:"same as hx,15."
tim:"huh, really ah? i thought you 12 or 13."
like seriously we've been in the same class for almost 1/2 a year and he's being living with the misconception that i'm 12 or 13.
played zhongjimima, and too bad for momo, 'cause i'm just so good at guessing that number that he has to eat the stupid french fry 3 times. headed back to school for cca before going for alicia's dedication :D
ALICIA IS ADORABLE!! but all her pics are in uncle's camera, 'cause he appointed me camera woman over it. and oh gawd, my auntie's cellies thought i was 18 years old.
so when i'm in school i'm 12/13 and when i go out i'm 18?
today,
2pm at buona vista where we started our hike all the way to vivo, pics will be up soon when blogger has fixed it's stupid template.
Lots of ♥, Cheryl
Adverstisements
nuffnang
Profile
cheryllsw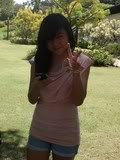 ♥ cheryllimsuwen, 29/11.
msn | facebook | tumblr | twitter | bucketlist | 365project| OOTD| fashion blog|

For beautiful eyes, look for the good in others; for beautiful lips, speak only words of kindness; and for poise, walk with the knowledge that you are never alone.
audrey hepburn



Affiliates

you're on your way

603 603 1/3 2/3

A Guides ASC Adlyn Angie Aqilah Amadea Adeline Aleithia Aubrey Amanda Aloysius Ariel Adalie Allison Amanda Athirah

Brandon Becks Blodwen Boon Hui

Cell blog Charmaine Connect Cherine Chen Teng Cheryl Calista Celeste Casmelin Colin Chun Rong Cara Cheng Ce Chui Shan

Damian Dilys David

Emily Elhannah Ethel

Finn

Guo Zhang Gabriel Glenice Gerald Gina Gloria

Haililly Hui Fang Hui Ling

Izzah n Anna

Jetaime Jun Xuan Justin Jaslyn Jasmine Jesslyn Jin Hong Jing Yi Jia Ning Janice Jassy Jerald Johnathan Jing Fang Jaini Joshua Jing Wen

Kevin Kellyn Kristine Kuan Ting Kelly

Lovel Louisa Liting Leon Lynette

Melvin Magdeline Ming Zhen

Nafeeshah Natalie Nicholas Norman Nichola

Pearl Pei Shi Phoenicia Pei Ling Puay Ying

Qian Ci Quraisha

Rui Ting Rachel Rui ting Ranjini

Sprint Sharon bugger Sarah Shirley Syairah Sheryl Serene Si Rong Si Yun Swastruck Sylvia

Tay Lin Tiffany

Victoria Valerie Venice Vicky

Woei Jiun Woei Chyi Woei Ling Wei Xuan Wei Xin

Xin Lin Xiu Ming Xi De Xiu Hui Xiu Qi

Ying Xin Yoke Kwan Yan Ting Yu Yun Yu Hui Yun Jin Yu Jun Yu Jia

Zariel Zi Yun Zhan Rong Zhi Xiang




Archives

gone with the wind

»March 2007
»April 2007
»May 2007
»June 2007
»July 2007
»August 2007
»September 2007
»October 2007
»November 2007
»December 2007
»January 2008
»February 2008
»March 2008
»April 2008
»May 2008
»June 2008
»July 2008
»August 2008
»September 2008
»October 2008
»November 2008
»December 2008
»January 2009
»February 2009
»March 2009
»April 2009
»May 2009
»June 2009
»July 2009
»August 2009
»September 2009
»October 2009
»November 2009
»December 2009
»January 2010
»February 2010
»March 2010
»April 2010
»May 2010
»June 2010
»July 2010
»August 2010
»September 2010
»October 2010
»November 2010
»December 2010
»January 2011
»February 2011
»March 2011
»April 2011
»May 2011
»June 2011
»July 2011
»August 2011
»September 2011
»October 2011
»November 2011
»December 2011
»January 2012
»February 2012
»March 2012
»April 2012
»May 2012
»June 2012
»July 2012
»August 2012
»September 2012
»October 2012
»December 2012
»January 2013
»February 2013
»March 2013
»April 2013
»May 2013
»June 2013
»July 2013
»August 2013
»September 2013
»October 2013
»November 2013
»January 2014
»November 2014
»December 2015