darkest days
Tuesday, 28 August 2012
Lots of ♥, Cheryl
Darlings
Monday, 27 August 2012
Lots of ♥, Cheryl
Clear skies
Sunday, 26 August 2012
Lots of ♥, Cheryl
Infinite
Saturday, 25 August 2012
Lots of ♥, Cheryl
A heart of gratitude
Thursday, 23 August 2012
Lots of ♥, Cheryl
Musical Muses
Wednesday, 22 August 2012
Lots of ♥, Cheryl
Normality
Tuesday, 21 August 2012
Lots of ♥, Cheryl
Timely reminders
Monday, 20 August 2012
Lots of ♥, Cheryl
In you I find my strength
Sunday, 19 August 2012
Lots of ♥, Cheryl
I believe in miracles
Saturday, 18 August 2012
Lots of ♥, Cheryl
God's timing is perfect
Thursday, 16 August 2012
Lots of ♥, Cheryl
Lost Cause
Things aren't going right and people are disappointing me.
To be honest, I'm angry.
I'm angry at how people can be so self-righteous, so full of themselves with no sense of remorse even after they have done wrong. How they can feel so justified about their mistakes and how they make excuses for they've done by turning the situation around and making themselves the victims. People like this make me sick to my gut.
I'm angry at how people are such cowards nowadays, they avoid problems, they refuse to admit what the real causes are and choose to make excuses instead. "Don't tell your daughters not to step out into the night. Instead, teach your sons better." Don't blame others or make excuses for what's really going on, but face it and do something to deal with it instead of always running away like a bloody coward. I'm not going to stand for such nonsense anymore.
I'm angry at how people are so insincere, if you want to be my friend, there's only one thing I ask of which is to be sincere. Don't tell me that you care and that you'll be there when you won't. Don't apologize when you don't mean it, it just makes things worse. Don't freaking do anything if you're insincere cause people know when you're being insincere and can tell how much of a farce you are. I don't need such hypocrites in my life, cause they'll only bring about more destruction than good.
I'm angry at how people take second chances for granted. Some people just don't learn from their mistakes. If you told someone that you're going to treasure them the second time around, that you're going to do better this time then mean it and do it. Just because someone can find it in themselves to forgive you and let you back into their life once doesn't mean that they can do it again the third time. Don't be an idiot and repeat the same mistakes, because second chances don't come by easy and third chances rarely even exist. There's a limit to how much someone can take before they give up, and don't push this limits, cause you don't want to know what happens when the lines are crossed.
I'm angry at how people make promises but don't keep them. Promises are made to be kept, and if you can't do that then don't even bother making them at all cause your words have no value in them.
I'm angry at how people are unappreciative. Take time to say thank you, to tell others that they are appreciated, don't always assume that you don't have to thank anyone cause you deserved everything that they did for you. No way in hell, stop being so smug and prideful, but learn to be appreciative instead.
Starting to lose faith in people.

God help me.
Lots of ♥, Cheryl
Mostly strangers, barely lovers
Wednesday, 15 August 2012
Can't believe a year has passed by like that.
A year ago on this day, we made decisions that have changed the course of our lives, or my life at least.
You told me that one day I'll look back and realize that it's all for the best.
I'm thankful that you let me go, you wanted me to be happier, to meet someone better and now that I look back I realize it's for the best because God knows how much heartache and tears you would have brought into my life if you didn't. Thank you for wanting the best for me, for wanting me to seek the happiness that I deserved, something that you could have never offered me.
So many moments in our life has come and gone, and at times I still look back at those memories, I still feel the familiar heartache but this time around I can find it in myself to smile, to embrace these memories that were once so dear; it's better to have loved and lost than never to have loved at all.
I love you, I always have and always will .x
But I deserve so much better and I am going to find better.
Lots of ♥, Cheryl
Truths
Tuesday, 14 August 2012
Lots of ♥, Cheryl
Gleeful
Monday, 13 August 2012
Lots of ♥, Cheryl
Failure
Sunday, 12 August 2012
It's so disheartening.
Trying so hard yet failing all the time.
Maybe I'm putting too much pressure on myself, stressing myself out all the same.
But right now, I just feel really stupid, like I can't do anything right.
This is exactly how I felt back in 2010, and these fears are coming back to haunt me.
God, help me to stop feeling this way.
Lots of ♥, Cheryl
Love like no other
Saturday, 11 August 2012
Lots of ♥, Cheryl
Numb
Friday, 10 August 2012
Right at this moment, I just want to feel numb.
I don't want to feel anything but numb.
Cause that's a million times better than what I'm feeling right now.
When you feel too much, sometimes you just want to be able to feel nothing.
Lots of ♥, Cheryl
hope for the future
Thursday, 9 August 2012
This time of the year has always been the worse for me, has been this way for the last couple of years.
But it'll be over someday and I'll continue believing in that.
All that You have for me
When I see You face to face
There surrounded by Your grace
All my fears swept away
In the light of Your embrace
Where Your love is all I need
And forever I am free
Where the streets are made of gold
In Your presence healed and whole
Let the songs of heaven
Rise to You alone
No weeping no hurt or pain
No suffering You hold me now
You hold me now
No darkness no sick or lame
No hiding You hold me now
You hold me now
In this life I will stand
Through my joy and my pain
Knowing there's a greater day
There's a hope that never fails
Where Your Name is lifted high
And forever praises rise
For the glory of Your Name
I'm believing for the day
Where the wars and violence cease
All creation lives in peace
Let the songs of heaven
Rise to You alone
For eternity
All my heart will give
All the glory to Your Name
Lots of ♥, Cheryl
Radical
Tuesday, 7 August 2012
Lots of ♥, Cheryl
See the magic
Sunday, 5 August 2012
Lots of ♥, Cheryl
Your promises will never fail me
Saturday, 4 August 2012
Lots of ♥, Cheryl
The strength to forgive
Friday, 3 August 2012
Lots of ♥, Cheryl
Blessings from above
Wednesday, 1 August 2012
Lots of ♥, Cheryl
Adverstisements
nuffnang
Profile
cheryllsw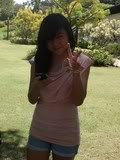 ♥ cheryllimsuwen, 29/11.
msn | facebook | tumblr | twitter | bucketlist | 365project| OOTD| fashion blog|

For beautiful eyes, look for the good in others; for beautiful lips, speak only words of kindness; and for poise, walk with the knowledge that you are never alone.
audrey hepburn



Affiliates

you're on your way

603 603 1/3 2/3

A Guides ASC Adlyn Angie Aqilah Amadea Adeline Aleithia Aubrey Amanda Aloysius Ariel Adalie Allison Amanda Athirah

Brandon Becks Blodwen Boon Hui

Cell blog Charmaine Connect Cherine Chen Teng Cheryl Calista Celeste Casmelin Colin Chun Rong Cara Cheng Ce Chui Shan

Damian Dilys David

Emily Elhannah Ethel

Finn

Guo Zhang Gabriel Glenice Gerald Gina Gloria

Haililly Hui Fang Hui Ling

Izzah n Anna

Jetaime Jun Xuan Justin Jaslyn Jasmine Jesslyn Jin Hong Jing Yi Jia Ning Janice Jassy Jerald Johnathan Jing Fang Jaini Joshua Jing Wen

Kevin Kellyn Kristine Kuan Ting Kelly

Lovel Louisa Liting Leon Lynette

Melvin Magdeline Ming Zhen

Nafeeshah Natalie Nicholas Norman Nichola

Pearl Pei Shi Phoenicia Pei Ling Puay Ying

Qian Ci Quraisha

Rui Ting Rachel Rui ting Ranjini

Sprint Sharon bugger Sarah Shirley Syairah Sheryl Serene Si Rong Si Yun Swastruck Sylvia

Tay Lin Tiffany

Victoria Valerie Venice Vicky

Woei Jiun Woei Chyi Woei Ling Wei Xuan Wei Xin

Xin Lin Xiu Ming Xi De Xiu Hui Xiu Qi

Ying Xin Yoke Kwan Yan Ting Yu Yun Yu Hui Yun Jin Yu Jun Yu Jia

Zariel Zi Yun Zhan Rong Zhi Xiang




Archives

gone with the wind

»March 2007
»April 2007
»May 2007
»June 2007
»July 2007
»August 2007
»September 2007
»October 2007
»November 2007
»December 2007
»January 2008
»February 2008
»March 2008
»April 2008
»May 2008
»June 2008
»July 2008
»August 2008
»September 2008
»October 2008
»November 2008
»December 2008
»January 2009
»February 2009
»March 2009
»April 2009
»May 2009
»June 2009
»July 2009
»August 2009
»September 2009
»October 2009
»November 2009
»December 2009
»January 2010
»February 2010
»March 2010
»April 2010
»May 2010
»June 2010
»July 2010
»August 2010
»September 2010
»October 2010
»November 2010
»December 2010
»January 2011
»February 2011
»March 2011
»April 2011
»May 2011
»June 2011
»July 2011
»August 2011
»September 2011
»October 2011
»November 2011
»December 2011
»January 2012
»February 2012
»March 2012
»April 2012
»May 2012
»June 2012
»July 2012
»August 2012
»September 2012
»October 2012
»December 2012
»January 2013
»February 2013
»March 2013
»April 2013
»May 2013
»June 2013
»July 2013
»August 2013
»September 2013
»October 2013
»November 2013
»January 2014
»November 2014
»December 2015