Saturday, 27 February 2010
Lots of ♥, Cheryl
jumpthenfall.
Thursday, 25 February 2010
(:
i thank god that my final paper's tmr and everyone who has taken it says that it's really easssy, so and chem has got to be my worst science sub ever, pray i can at least b it,
honestly, bio spa today was prolly the worst experience this whole month, imagine contaminated potassium permanganate and swirling the testtube for 7 mins 46 sec (acc to stopwatch) to try to obtain a colour change which is impossible before the teacher comes by and says oh it's contaminated, i replace for you. yeah that happened to me, guess i almost cried because this result's going to my olevel marks, and i can't afford to screw up my bio, praying for an a1 for the sub.
well, tmr's gonna be a better day i hope.
Lots of ♥, Cheryl
when i'm clinging on to every promise you've made
Wednesday, 24 February 2010

tiredddd :( but i'm looking forward to fridayyy, 'cause term 1 exams end then, yes then jerald can finally disturb me all he wants after that, heh,

looks like i'm gonna spend sabbatical ignoring the elearning assignments and out to hajilane and arab street w jingwen for our long denied shop spree there, hahas thank god i've saved up all my moolah, so i don't have to worry about it for now (: heheh, i like the fact that my bank account's growingggg,

HUMAN GEOG SUCKS.
NOT KNOWING WHAT'S COMING OUT FOR BIO OLVL SPA SUCKS.
NOT BEING ABLE TO GET MY 5 HOURS OF REST SUCKS.

sighs, life should be better than this.



Lots of ♥, Cheryl




ALI SAN DE GU NIANG DE SHEN RI

Tuesday, 23 February 2010



okay we both look like retards in this shot, so it's fair (:
HAPPY BIRTHDAY DEAR, hahas CRAZY how we've been growing up in the same rangers ministry ever since we were small little kiddos till where we are now, 16 and 17 year olds heading on the same path for our GMA and being fellow mentees and fellow mentors at the same time, can't believe that we've been through so much together/
thanks for being such an awesome friend throughout these years, working alongside me to achieve our BMA's , giving me whatever help and encouragement i require through every obstacle i stumbled upon, bothering to listen to me rant about my frustrations and even hugging me and crying with me at alter calls at camps.
look forward to JSC with youuu, hahaha it's gonna be super awesome joining you and joshua in the same camp - yes killing froggies and eelies, but i'm glad that i'm going to share this experience with you, the whole process of shrieking, crying, ranting and finally killing. it just adds something more to our long list of memories (: heh
love you my dear, have a blessed 17th birthday (L)(L)(L)
Lots of ♥, Cheryl
secrets left hanging by a thread
missing the hols' where we had YNGT :(

forgot about the grammar test tmr, and i'm soooooo dead right now, 'cause my foundation of english (grammar basically) is darn weak, yet i'm in band 1 english (miraculously) and i'm still scoring a1's in exams, can't afford to screw this grammar test up, what makes everything worse is that mrsW hasn't been around to tell us what's tested so i got no damn clue on what to study for tmr, someone please kill me.

eyesight's super shittty, even with my specs on, everything's super blurry and whatever nonsense.

OKAY I NEED TO FOCUS AND GET MY WORK DONE ASAP SO THAT I CAN SLEEP AND PRAY THAT I CAN SEE PROPERLY TMR.



Lots of ♥, Cheryl




Monday, 22 February 2010




i desperately need super awesome time management skills tie up all my loose ends and study for all my major tests, tine's running short already :( and i need to end off this term with a good note.






Emath statistics, geography paper, chemistry 80% test, Bio/physics/chem olvl spa and djgsp ( no I did not type that wrongly ) and GMA






/ and I need your strength to pull me through all of this.






only incident that brightened my day up so far is the fact that chemistry spa has been postponed before sabbatical and I can make it for JSC :D finally can sign up for the camp officially with ease :) heh, first training camp with ally as my fellow trainee ( crazy how it's going to be my first camp with a fellow female ranger from outpost 1 ) hmms, I would rather kill eels than kill frogs though ... As if I hve a choice to kill either one






sabbatical's gonna be stupid anyway, have elearning and singapore youth science festival to take part in.






Okay, gonna continue with extra lessons for 2 more hours. Toodles for now (L)





Lots of ♥, Cheryl




pearly gates

Sunday, 21 February 2010



yay (: talked to conrad online last night, wbf i miss seeing you at rangers on saturdays :(
friday and weekends have been awesome, though it was mainly a rush and hush everywhere, whatever happened on the footdrill session on friday really scared me, but i guess that this kind of things happen very very seldom, so gotta prayy that it doesn't happen on monday again.
rushed to tc @ marine parade and joined the jljl table for dinner and to lao yu sheng, hahas, okay you can tell that our chinese is pretty crappish when after saying a few chinese new year related cheng yu we go on to sprouting nonsense and screaming out crap like " 一落千丈" and "守株待兔"
friday reminded me of how my life used to be, work work work work, no meals, no sleep. because i slept only 3 hours that day, ate no meals till it came to dinner with the tribe and rushing everywhere by myself. wonder how i actually managed to live a life like that.
bused back to yck chapel there changed bus and off to gab's house (: bus ride was terrible 'cause i had to look out for every sign board on the left side on the road to look out for where to stop.
and i think i looked like a homeless kiddo, with all my bags and stuff.
worship, devo, bathe, sleep :D
woke up, left for yck, met shnaynay and sohsoh, lunch @ kallang mr bean (: watermelon soya milk's the new loveee, and bused down to IS for thinking day celebrations, back home for sleepfest to begin.
today, gkids (: ordered new rangers uniform from outpost 19 ( yes like finallyy. hehe, heard they got a lot of stock ) and thanks chantel, 40 days of prayer briefing, potluck with cellies, and our very tian yusheng, before heading down to shirley's house for jeanelle's birthday celeb, hahs raving rabbits 2 with cellies and played with jeanelle.
heh. i miss shirley being our cell leader.
Lots of ♥, Cheryl
come reign in us
Thursday, 18 February 2010
hehe, the classic me and ally shot during hiking (:
ahh, okay time's flying and i wonder how i can stare at the clock and just watch the minutes go by w/o feeling the strain that O's are coming and even before that that my major tests for ca1 are here.

so manyyy things to do yet so little time.
why can't a day be made of 48 hours instead?

gotta stop procrastinating, tsk. okay, ss test ss test ss test. go, study, now.

Lots of ♥, Cheryl
drifting
Wednesday, 17 February 2010
Lots of ♥, Cheryl
and all i could do was think of you
Tuesday, 16 February 2010
living in a crash world right now,
add math test in a few hours and i haven't studied, my luggage is partially unpacked, and most of the things on flung over my floor, i'm glad i'm back because it's super cold in hongkong but it sucks here 'cause i can't get used to the weather just like that. gotta live in my aircon room for the next few days.
tired, but i won't go to sleep. sighs. what's wrong with me.
Lots of ♥, Cheryl
你的承诺
Thursday, 11 February 2010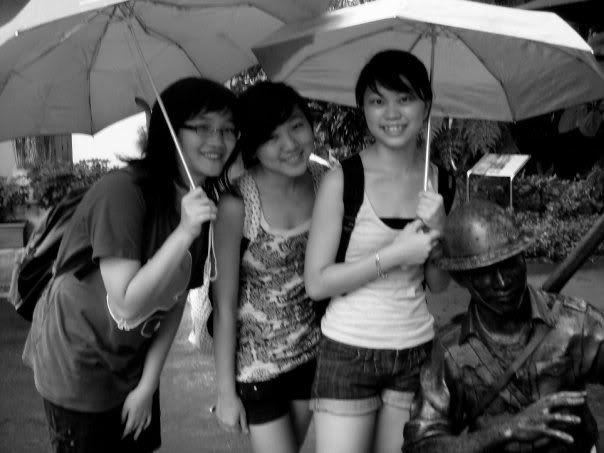 thank god this day's over, 'cause it's been longggg, and my mind's no longer lucid and clear. peiz's calling me sophie balister or smth and dinner with her was great (:
my mind's flooded with countless thoughts at the moment, hehe. okay that always happens, i guess i'm pretty screwed, leaving for hongkong tmr and i've not packed anything yet. think i'm a stupid vain pot who can't decide on what to wear there, pft. anyways. thank god for this break when i finally get to take a break away from the things that frustrate me.
i've learnt my lesson, no more nancy holder books when i'm alone in my house, spooked out now from reading it, i wonder how writers manage to have such twisted imagination. hehe, video on trial's making me laugh.
okay did i mention how much i love my mentor and my fellow mentee?
it's super comforting to know that we aren't going through our struggles alone, and that there will always be someone watching our backs no matter what :D
- / ; gonna embrace my own potential, because it's stupid how others can believe in me but i can't.
Lots of ♥, Cheryl
ardency
Tuesday, 9 February 2010
cheryl's a happy girl because she's nearly done with her nature study merit which means she's completing her GMA soon (:

but on the down side, i'm stuck with massive piles of homework, which i don't feel like doing, seriously a chinese comprehension on sun wu kong? yes, i should stop owing so much homework and begin clearing them up, all the half complete worksheets and all.

alright, time to get to work. toodles ~~



Lots of ♥, Cheryl




searching through the twilight

Monday, 8 February 2010




finally updating (:
past few days have been crazily awesome, spent friday @ camp with the guides, hahas love heart to heart talks with them, helped with cooking dinner (marinating my lovely chicken :D) and scrubbing the kitchen floors clean (dark grey --> off white) with cici. ended up sleeping in sharon/finn's sleeping bag till 6.30am before leaving camp christine at 7+ to bus out to lot1.

bus ride out was damn scary, like just guys and guys in the bus and i'm the only female inside. ljs breakfast and train ride from choa chu kang to aljunied, crazy 1 hour ride. camp meeting before rangers and heading home :D

sunday, service @ bethel before hiking with the bethel people (:
shall let photos do the talking for this one

today, skipped school and walked to the polyclinic, ended up having to go for 1.30pm registration in the end, walked to hougang mall to study and lunch before walking back to register, consultation and meds before walking home.



Lots of ♥, Cheryl




Thursday, 4 February 2010


awake since 5am trying to finish up all the last minute homework due today, 4 hours of lessons seem so long today, sighs.

okay, im off to guides camp (:



Lots of ♥, Cheryl




behold, a silent melody

Wednesday, 3 February 2010



okay head's throbbing, nasal passage's blocked and my throat's falling apart.
and i think it's been a long time since i've studied intensively, even 2 chapters of biology seem to kill me and whatever's left of my memory space.
hahas, think deepak and i are stuck in the same plight, 'cause we both have tuition before havin got mug for biotest, ahhhh and yeopohseng's going to call me at 3am to wake me up to study, doubt he can though, imagine me sleeping through 17 missed calls last night.
sigh, sec 4 life really really sucks bigtime.
alright back to mugging.
Lots of ♥, Cheryl
turning around just to watch you leave
Tuesday, 2 February 2010
okay my bad throat has turned into a hell hole, it's more of a terrible flu now, and i think i'm crazy, the aircon's on in my bedroom even though i can't breathe properly now, can't stand the feeling of stuffiness
anyways, drowsy medication took it's toll on me during lessons today, seriously had to keep fighting the urge to sleep or to drink water (in the case of ms mok and mrs chong) during the lessons,
skipped extra lessons to go home to sleep the flu away, and i thought that the bus ride home would be a quiet one but surprisingly ended up spending time with ryan while waiting for 265 to come and spend the bus ride on 132 talking and catching up with rebecca :D hahas yays she thinks that the DE tribe's super bonded and super cool hehe, love the tribe (L)
Lots of ♥, Cheryl
hypnotized
Monday, 1 February 2010
okay as of this moment, my voice is ceasing to exist, and i feel like i can just die any moment now.



Lots of ♥, Cheryl