a risk that i'm taking
Saturday, 31 October 2009

okay i'm dead tired from everything that has been going on.

yesterday met jingwen @bishan for lunch at sakae sushi (: had the buffet and ate for like almost 2 hours plus before we went walking about bishan, shopped at cotton on when we fell in love with the acid wash leggings, she couldn't find her size so she reserved it at hougang and we circle-lined down to get it. so as she went down to hougang, i went back and forth the circle line till she came back to serangoon.

trained to amk where the rain was terrible and the journey to school caused our shoes to be terribly drenched :( movie marathon from 7pm to 7am, caught the shows

Coraline
Angels and Demons
I am legend
Jumanji
House on haunted hill
@7am we were all shagged. trained down together with the rest to send pei home before having breakfast at LJS. ( SUPER SUPER NICEEE :D) and training back to AMK and busing home with quek.

reached home at 10am and slept from 11am all the way till 5pm before going for grandpa's birthday celebration.



Lots of ♥, Cheryl




Thursday, 29 October 2009




alright i'm off to sakae sushi for lunch/dinner before the overnight movie marathon :D





Lots of ♥, Cheryl




the love you make is equal to the love you take



don't tell me that i'm going insane,
it's the last day of school today and many changes are going to take place next year. hahas, oh well think today was just a day spent on reflecting and looking back at all the things that have taken place in this crazy hectic year.
making fun of kuanting during chinese lesson is super fun (: and after lessons helped out with the orchid garden before getting peach milk tea and heading home to bake :D
Lots of ♥, Cheryl
nothing to hide, nothing to fear
Wednesday, 28 October 2009
ART's fest was utterly boring and darn retarded, morning began with morning workout and popping of poppers as well as be yourself day and chinese lesson spent the whole day with jiaqin and constantly bumping into donovan and colleen.
after school, meetings were all cancelled at the very last minute and ended up having lunch at sumo with jaslyn, jingwen, courtney, yixin and the scholars (: wanted to catch a movie but there weren't any nice shows that we could watch so ended up heading down to orchard FEP to window shop since we were all broke.
the milk tea there is damn niceee, stayed out till about 7 plus before we trained home together
yays overnight movie marathon this friday (:
Lots of ♥, Cheryl
bliss
Tuesday, 27 October 2009

i don't like intensive chinese lessons, 'cause the four hours today were good enough to almost kill me and all the other higher chinese students, i can't believe we actually lived through that, although it seems that we always digress a lot during the lesson.

afternoon was wasted away at about 4 hours of EXCO meeting and busing down to church for prayer meeting and dinner with the rangers (:

okay i'm shagged.



Lots of ♥, Cheryl




looking at the sunset in your eyes

Monday, 26 October 2009



and love just seems to go on and on.
Lots of ♥, Cheryl
love goes a long way
Sunday, 25 October 2009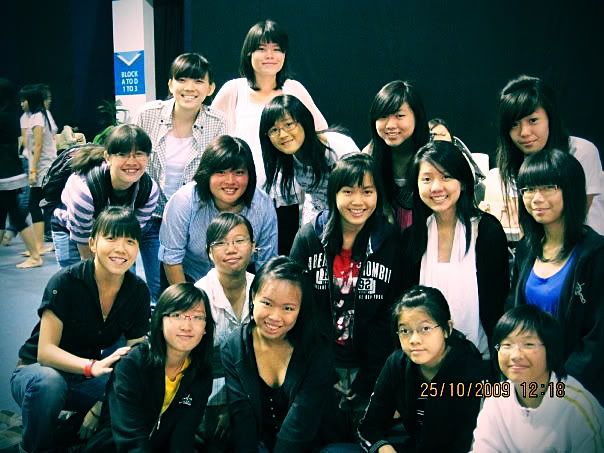 church today (:
god's really working in the lives of the children now, and it's so amazing to see the small kids responding so well to praising the lord, julian was such a dear 'cause he allowed me to remember the reason i started serving 3 years ago.
cell, celebrated gloria's birthday, and bugger's thanksgiving's the funniest.
"I THANK GOD THAT CHERYL TAGGED MY BLOG THIS WEEK."
went through the new qt book, which is darn awesome before lunching together. trained back with jingyi and finally got to catch up with her after so long (: stopped at dhoby ghaut for a while to meet chiwen and get my marksandspencer biscuits before heading home.
currently have to finish up my nyaa after so many months of procrastination, trying to fix my printer to print out my merits for signing off the following week, clean up my room and figure out how to do a spreadsheet for the accounts during the mission trip.
Lots of ♥, Cheryl
words can't seem to express the true emotions
Saturday, 24 October 2009
i think i cried the most today.
the morning was terrible, big fight made me turn totally emotional and dejected for hours, finally managed to leave home at 12.15 to head to bethel when i was caught in the "SHELL JAM", imagine getting stuck at kovan mrt station bus stop for twenty minutes before being able to move on.
the words GMA and FCF got thrown around a lot today,
charted merits and i realised that i'm so darn close to getting my GMA already, so gonna work hard and complete it (:
prayermeeting and dinner at botak jones with the rest before riding home in cmdr chong's car
Lots of ♥, Cheryl
baby, can you keep a secret.
Friday, 23 October 2009
"good morning sec3 express students"
"gooooooooddddd-moooorrrnnniiinnggg mrrssss aaaannnggg."
"students, say properly"
"properly"
(EPIC FAIL.)
the longest friday of my life. 2 hours of going through math, 1 hour of social studies and 3 hours of chinese.
can't believe the expectations set for all of us in anderson, crazy l1r5 targets like mine's 9 and waisiong's 7.3, and crazy as it seems we all end up under-performing even though our actual l1r5's less than 15 or smth. oh well, just happy that i'm no-where near the bottom six ever.
180squats and loads of marching for guides.
Lots of ♥, Cheryl
our sweet little love song,
Thursday, 22 October 2009
limitations.
i hate my fondness of going against the flow, it used me to be me against the world but now it's just me against myself. i don't know why i feel so restricted all the time, doubting my own capability and not believing in what others have to say about the many things i can achieve. there's just something in me that hasn't emerged and for now i just can't seem to see what others see.
---------------------------
school was just 6 hours of going through answers, and what really made my day was the sticky sweets and knowing that i got a1 for geography again :D think the whole level did terrible in finals though, 14 retainees in total, thank god none are from 3/1'09
caramel milk tea from koicafe after school and then AMK lib for many many books before heading home and out to hougang mall.
p/s. part of my vaio chipped off due to an accident, but i've blinged that are with pink and white crystals (:
Lots of ♥, Cheryl
memories of the past
Wednesday, 21 October 2009
(OMG class tee's finally here, and it's super sheer.)
anyways jingwen's awesome cause she's selling me her blogshop clothes at the purchase price (:
met early in the morning for the EXCO meeting, before staying back in school instead of heading for the picnic at ann siang hill, refereed matches and had 3 hours of cheerleading sessions with the vj knights, which apparantly is brian and puayying's cca in VJ, brian's a real retard, he cartwheeled into a wall and injured his knee. blog critiquing with the others in council room before having footdrill for cca.
my voice is shaky now.
melrose place and gossip girl episodes are now up online,
it's still early and my whole family's already asleep
and please enlighten me on how to get rid of a nonexistent paperjam.
Lots of ♥, Cheryl
shot through the heart and you're to blame, 'cause you give love a bad name
Monday, 19 October 2009
fasting lunch and praying for Philippines today,
i have to start seeking God and setting my expectations for this trip,

so much has happened in Philippines in the past few weeks, from the floods to the rising death tolls and indeed it is evident that the people there are emotionally, physically and economically affected. making our way to Tacloban City this december, we have all been presented with the once in a lifetime opportunity to make a difference in the lives of the people there.

and as i pray for this coming trip, just a word of encouragement to my fellow missiontrippers (:

we have nothing to fear, 'cause God is with us.
everything we do is not by our might or by our power but by empowerment of the spirit of God,
so before we head over there, pray that God fills up and overflow us with his great and mighty love so that we will be able to love the people there unconditionally :D

in the meantime, i'm looking forward to the youth mission trip planned by FCBC next year as it will really be a huge phenomenon. imagine all the 2000 over youths going on missions all over the world, seriously a global change.



-----------------------



1 hour bus ride to ngeeannpoly in the afternoon to meet one-third for hike planning, hahas and i don't know why but i'm starting to reconsider my options on going to ngeeann, 'cause temasek seems to offer so much like a scholarship of $6000 a year on the hospitality and tourism industry and the sentosa tourism academy.

i'm really torn between the diff schools, but i've still got about a year or so to decide, meanwhile i'll have to keep all options open :D

visited grandpa at CGH again before heading down with family to grocery shopping at 9pm @ giant megastore (:



Lots of ♥, Cheryl




i used to be lovedrunk and now i'm hungover.



yays, new blogskin is finally up after hours of editing it,
and i'm stuck with the obsession of giant photos and writing spaces on my blog
anyway spent the day today at work at expo helping to pack up after the mega metro sale, great experience and an awesome new way to earn money, but the sun was blazing hot in the afternoon and i almost died in the sweltering heat.
alright i'm gonna continue working on all my merits now,
Lots of ♥, Cheryl
it doesn't matter
Sunday, 18 October 2009
current crazes:
3 by britney spears. the lost symbol by dan brown. and photoshop's the ultimate love.
yes everyone should start reading dan brown books because they're really awesome and i didn't realise how much of a fan i've become till i realised that i've read 4 of his 5 books.
anyways today has been a crazily long day, davids this morning and imagine five crazy kiddos clumbering all over me and all trying to sit on my lap at the same time,it's all utterly insane, but i still love them so much because they're all so angelic and cute at the same time.
cell was downright crazy with the ultra coolio cellmates and DE tribe has got so much planned out for all of us over this mere 2 months hahas,
after that headed down to chinatown point collect tins for flagday before going to clarke quay which is super super deserted on the weekends, and filled with generous caucasians and dirtyoldmen. trained back with jasQ (:
p/s. aaron. i'm not dead yet from the bbt that you spiked with your lethel poison. hahas
Lots of ♥, Cheryl
the sweet surrender.
Friday, 16 October 2009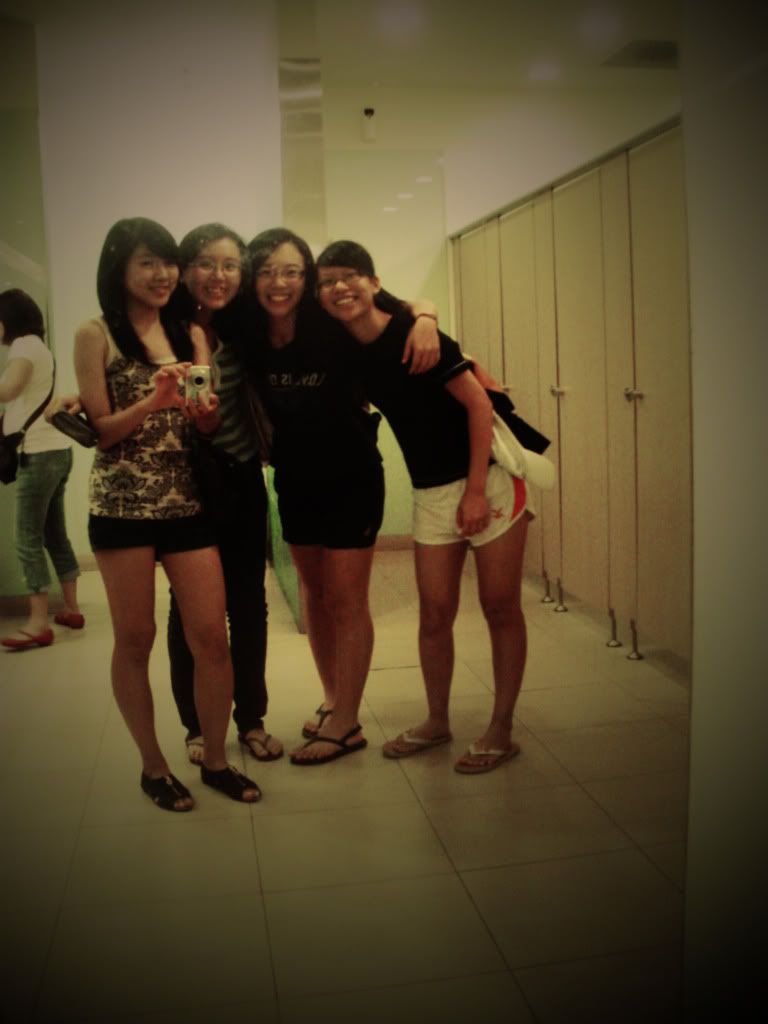 holga-ed image (:
damn it's hot today, and i hate to have to go out soon 'cause i'll probably just melt like that.
anyways bused to eunos and trained to simei, met ahpa and conrad and the rest before we walked to unclechong's house together for prayer meeting :D thanks gabriel for buying my starbucks for me. left for changi at 6.05 with lydia (:

met cellies and had popeyes for dinner, and took photos :D think i'm learning the art of being dilys' mentee with the crazy 'camera glued to hand thingy.' train ride back home was long and insane.

LOMO'S AND HOLGA'S ARE THE LOVE. ( THOUGH I'M USING PHOTOSHOP TO ACHIEVE THE SAME EFFECT.)


Lots of ♥, Cheryl
never thought you would look back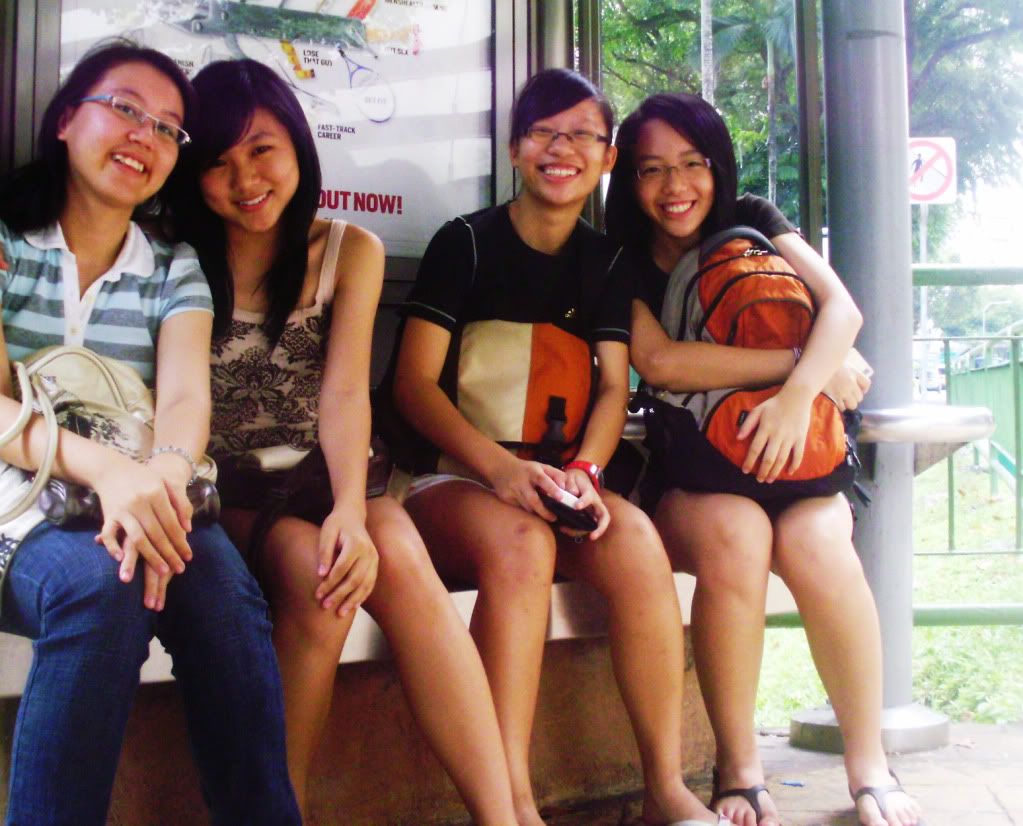 marking days have been nice and amazingly tiring so far.

thursday;

I SWEAR I ATE A LOT TODAY.

worked in the morning before meetin huixiang and tianning at tpy for yakun kaya toast, eggs and milk tea before jiaqin came and we bused down to queensway, met lynnettejie on the bus (: AND OMG QUEENSWAY HAS MANY HIDDEN TREASURES. SUPER NICE EARINGS FOR $2, BOYFRIEND SHIRT AT $15, SUPER PRETTY NIKE JACKET AT $50. AND THE KATONG LAKSA THERE IS SUPER SUPER NICE. though the muahchee was pretty dissapointing.

ended up busing down to orchard to shop at FEP and orchard ion, seriously everyone should not shop at tangy at FEP level one because the sales staff are super rude and arrogant, MOOLA WENT FLYING AWAY. and dinner was sharksfin @ premier thai with daddy and mummy :D

friday,

worked worked worked.

and now my bank account has grown by a few hundreds :D dinner at manhattan fish market and photoshop rocks :D hahas

Lots of ♥, Cheryl
what i love about you.
Wednesday, 14 October 2009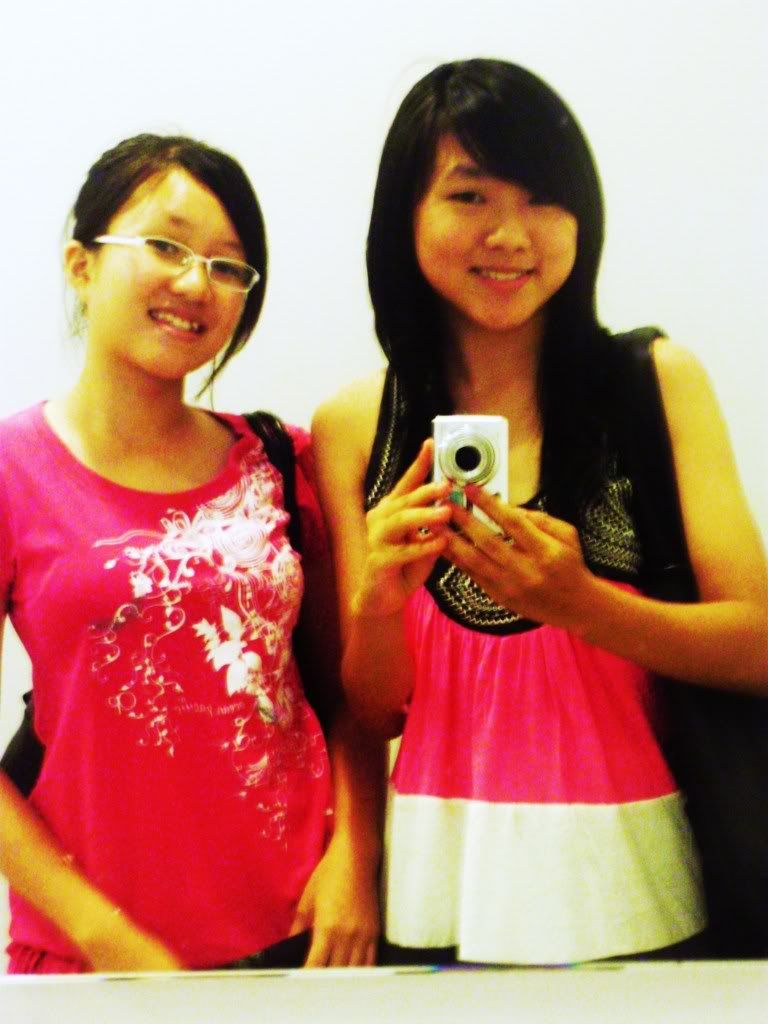 imagine this, ultimate freedom's here.
alright i have a massive obsessive disorder over melrose place(2009), actually over mainly all the cw shows, 'cause they're all just so awesome. i desperately need to catch up on my sleep to make up for all that i've lost during finals, and got to complete my gma as promised.
Lots of ♥, Cheryl
making it work,
Tuesday, 13 October 2009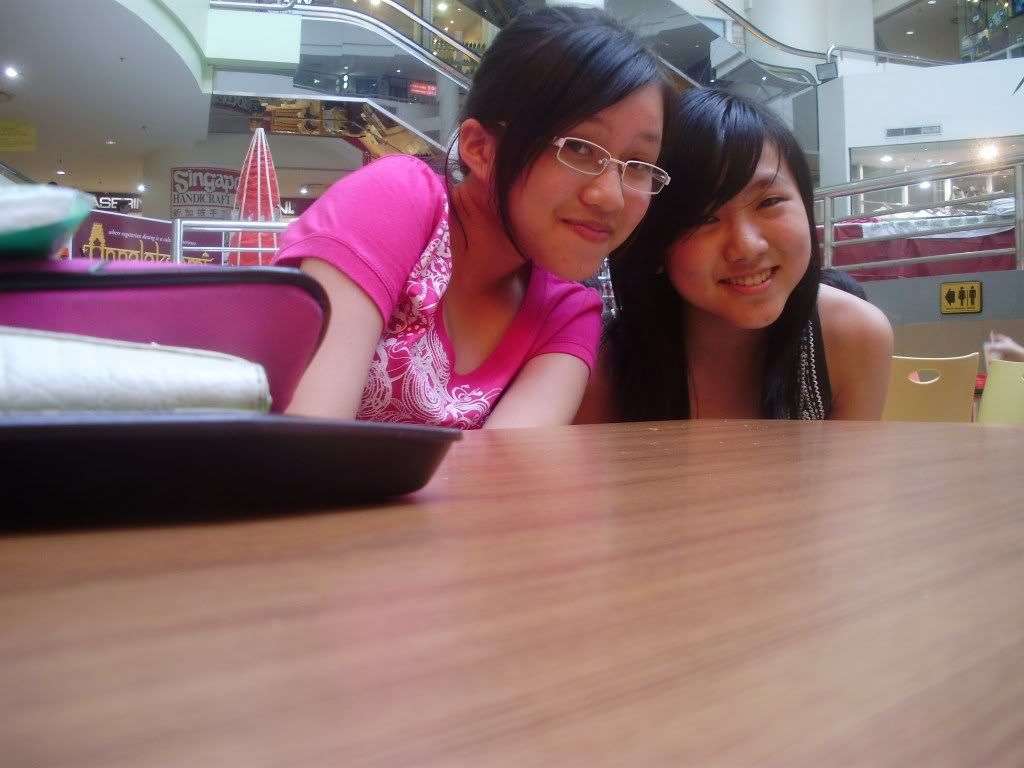 the final stretch, two more papers to go.

terrible dreams kept me awake the whole night. and the morning began with studying and mugging the two essays i missed out the previous night, while having stupid loud conversations with kevinteo across the tables where he was sitting.

history paper was a killer, though school ended at 9.40, so headed down to hub to change and begin our jobhunting escapade. first interview @ tanglin shopping centre, it's almost impossible to find your way around there, and it's weird how everyone doesn't think that i'm 15 when i go out. hahas, didn't get the job 'cause they wanted 16 years olds and older and both sharon and i are still techincally 14+.

walked around orchard ion and then headed to FEP and got my zipper flats before lunching at subway and continuing to walk around FEP, spent a lot of time in 'my wardrobe' with the super pretty dresses and crazily high heels, wisma atria forever 21 before training down to chinatown point for second interview.

45mins early so we ate icecream at macs first before heading to the interview, and the interviewers are damn nice (: hahas, and we got the job anyway so will be helping out at roadshows now and then from 31october onwards (:

Lots of ♥, Cheryl
nothing's ever simple or easy
Monday, 12 October 2009

physics and add.math paper was really screwedd.
but on a brighter note, exams are coming to an end really soon, just 3 more papers to go for the higher chinese students, while the normal chinese students get to gloat because their final paper's tmr.

and day has been awesome so far, 'cause i received 2 calls for parttimejob interviews tomorrow, so it means i'll probably be earning moola soon, and i'm in love with the cleo-inspired boho top which came in the mail just now, the zipper flats i want are oos though, so have to check out other places.

alright gotta start studying for history paper soon.

bye bye darhlings.



Lots of ♥, Cheryl




tequila shots

Sunday, 11 October 2009



'cause everytime you go away, the sunshine starts to fade, frozen by the hands of time into a permanent monday.
i'm chiewjingyi's 唯一的女人
church today was awesome, though it was freezing cold where we were sitting, i like the new tribe alot and the cellies together with liangming's cell celebrated debozo's birthday :D and thanks liangming cell and our respective angels for the study pack and encouraging letters to mug hard no matter what :D
plans with for the next week:
monday,tuesday: papers.
wedenesday: final paper and FAME with guideslovlies
thursday: WORKWORKWORK
friday: GMAmeritssession & WORK!
sat: CELLIES. orchard ion, fetching adeline from airport, sleepover @ liangming's place. & prayer meeting for mission trip
sunday: church and mercy relief flag day (:
currently in love with the jabbawockeez, awesome popping and locking.
p/s. nwd been spamming the class with UPS(USEFUL.PHYSICS.STUFF.) for the exam tmr
studying can help take my mind off you,




and the pressure of the high expectations set upon me is starting to crush me.
Lots of ♥, Cheryl
everything for you.
Saturday, 10 October 2009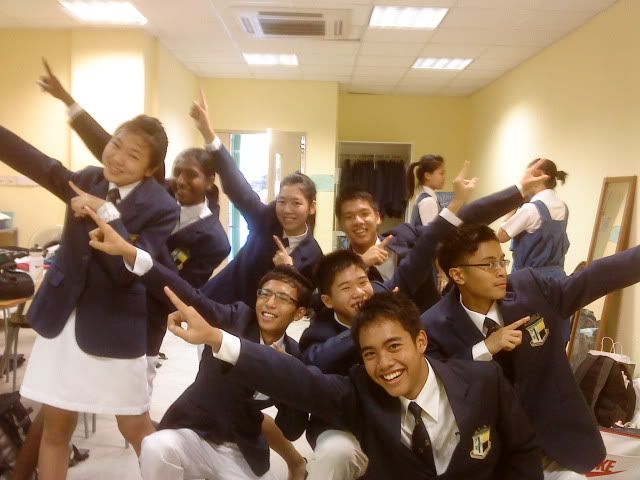 satttuuurrrdddaaayyy isn't complete without the rangers.

church. addmathmugfest. clearing up. dinner.

Lots of ♥, Cheryl
turned on by the tabloids
Friday, 9 October 2009
life has been awesome, and i've been one happy girl
today has been the absolute love,
e.math paper ended at 10, had koi cafe caramel milk tea for brunch before jasQ infected me with her obsession over code red bags and lovely lovely shoes, met up with the 2/8 expeerclass people and jasQ gave in to temptations and got her oxfords(supersuperprettaye).
colours gunmetal and charcoal are gorgeous (:
i'm in dire need of retailtherapy and parttimejobs to earn the moola.
job hunts!!
p/s. my blog's best viewed in MF.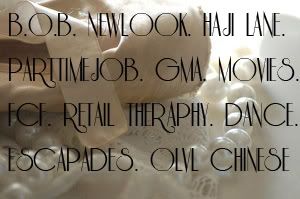 Lots of ♥, Cheryl
things come and go
Thursday, 8 October 2009
SENTOSSAAAA. I WANT MY LIFE BACK. SO EXAMS BETTER END SOON. 6 MORE PAPERS TO GO.
p/s. onlineshopping's awesome. i love with cleoinspired boho top 'cause it's bubblegum pink, white and gunmetal in the same top (L)

Lots of ♥, Cheryl
willow creek
Wednesday, 7 October 2009
and i never fail to find comfort in your arms
alright, biology paper's tomorrow and i've got 13 chapters to start studying.
cells. hormones. animal nutrition. plant nutrition. homeostasis. the nervous system. respiration. excretion. enzymes. nutrients. movement of substances. transport in humans. the human eye

7:58pm, 9 more chapters to study, mainly all the crazy huge chapters,and this crazy headache's killing me.

happy birthday debozo :D

Lots of ♥, Cheryl
everytime you lie.
Tuesday, 6 October 2009

screwwwtheexmas, we've got 11 more papers to go till freedom.

chinese&chem today, i'm glad this day's over though biology's on thursday and that seriously sucks 'cause there's a lot of memorising to do and have to do well in all subs this term so gotta put in a 101% in everything.

AND KENNYNAI MOMENT WAS NOT FUN AT ALL.

okay time to start studying for socialstudies.
bonding singapore. sri-lanka/northern island. managing peace & stability.



Lots of ♥, Cheryl




baby no worries.

Monday, 5 October 2009




i'm ecstatic.
day in school was alright though i'm glad the fundraiser for the typhoon victims are successful (:
currently procrastinating instead of mugging crazily for chem and chinese tmr, don't know why but now i prefer dancing and sweating it out for 3 crazy minutes before starting one chapter of chem.done up some of my GMA stuff already, and still considering about the cell mentor thingy.

alright got to go start mugging, allthebest 3/1 nerds who suck at chem like me (we're going to rock this.)

yays chem's done, though i haven't touched my chinese yet, smsing tiff's awesome 'cause there's finally someone who's as retarded as i am hahas :D



i'm dreading the inevitable, the day i'll have to leave you all to serve somewhere else.





Lots of ♥, Cheryl




coldness runs through my soul

Sunday, 4 October 2009



study :D
davids in the morning to pass kiddos the children day pressie and worship was at the back of the church with shirley, eugin and jeanelle which i got to carry again. church message was awesome, and the light display was spectacular,

fcbc's my place to be and i won't go anywhere else no matter what the circumstance.

currently hating the smell of anesthetic after all those trips to CGH to visit grandpa, including today. lunch was at tampines 1 sushi tei and shopped around uniqlo before heading home.

alright, twothird and wbf's really great at cheering me up :D hahas, and i'm gonna work hard for my gma now, 'cause i'm recharged to get head out and get it now. and oh wow, i just realised how much of a player you are.

Lots of ♥, Cheryl
when i break your little heart in two
Friday, 2 October 2009
been watching gossip girl season 3 and it makes me miss sitting at the steps of the MET in manhattan 7 months ago, dangg i miss newyork and i wanna flyyyy back there soon,

2 out of the 15 exams are over, and i can now delete the crazy amount geog stuff i have stored in my brain. better figure out how to do mole chapter soon, 'cause next tuesday's exam will be a killer.

pepperlunched and headed back to school for extra ss lessons and had fits of uncontrollable laughter.



Lots of ♥, Cheryl
Adverstisements
nuffnang
Profile
cheryllsw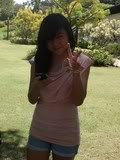 ♥ cheryllimsuwen, 29/11.
msn | facebook | tumblr | twitter | bucketlist | 365project| OOTD| fashion blog|

For beautiful eyes, look for the good in others; for beautiful lips, speak only words of kindness; and for poise, walk with the knowledge that you are never alone.
audrey hepburn



Affiliates

you're on your way

603 603 1/3 2/3

A Guides ASC Adlyn Angie Aqilah Amadea Adeline Aleithia Aubrey Amanda Aloysius Ariel Adalie Allison Amanda Athirah

Brandon Becks Blodwen Boon Hui

Cell blog Charmaine Connect Cherine Chen Teng Cheryl Calista Celeste Casmelin Colin Chun Rong Cara Cheng Ce Chui Shan

Damian Dilys David

Emily Elhannah Ethel

Finn

Guo Zhang Gabriel Glenice Gerald Gina Gloria

Haililly Hui Fang Hui Ling

Izzah n Anna

Jetaime Jun Xuan Justin Jaslyn Jasmine Jesslyn Jin Hong Jing Yi Jia Ning Janice Jassy Jerald Johnathan Jing Fang Jaini Joshua Jing Wen

Kevin Kellyn Kristine Kuan Ting Kelly

Lovel Louisa Liting Leon Lynette

Melvin Magdeline Ming Zhen

Nafeeshah Natalie Nicholas Norman Nichola

Pearl Pei Shi Phoenicia Pei Ling Puay Ying

Qian Ci Quraisha

Rui Ting Rachel Rui ting Ranjini

Sprint Sharon bugger Sarah Shirley Syairah Sheryl Serene Si Rong Si Yun Swastruck Sylvia

Tay Lin Tiffany

Victoria Valerie Venice Vicky

Woei Jiun Woei Chyi Woei Ling Wei Xuan Wei Xin

Xin Lin Xiu Ming Xi De Xiu Hui Xiu Qi

Ying Xin Yoke Kwan Yan Ting Yu Yun Yu Hui Yun Jin Yu Jun Yu Jia

Zariel Zi Yun Zhan Rong Zhi Xiang




Archives

gone with the wind

»March 2007
»April 2007
»May 2007
»June 2007
»July 2007
»August 2007
»September 2007
»October 2007
»November 2007
»December 2007
»January 2008
»February 2008
»March 2008
»April 2008
»May 2008
»June 2008
»July 2008
»August 2008
»September 2008
»October 2008
»November 2008
»December 2008
»January 2009
»February 2009
»March 2009
»April 2009
»May 2009
»June 2009
»July 2009
»August 2009
»September 2009
»October 2009
»November 2009
»December 2009
»January 2010
»February 2010
»March 2010
»April 2010
»May 2010
»June 2010
»July 2010
»August 2010
»September 2010
»October 2010
»November 2010
»December 2010
»January 2011
»February 2011
»March 2011
»April 2011
»May 2011
»June 2011
»July 2011
»August 2011
»September 2011
»October 2011
»November 2011
»December 2011
»January 2012
»February 2012
»March 2012
»April 2012
»May 2012
»June 2012
»July 2012
»August 2012
»September 2012
»October 2012
»December 2012
»January 2013
»February 2013
»March 2013
»April 2013
»May 2013
»June 2013
»July 2013
»August 2013
»September 2013
»October 2013
»November 2013
»January 2014
»November 2014
»December 2015