to the corners of the earth :D

Sunday, 31 May 2009




hello (; today's a real awesome day, slept at 3am+ and woke up at 8.30 to leave home and head to church at 9.30 :D davids was funnn, though i still find it weird why the crying kids keep coming towards me and hug me while drenching my love your neighbour shirt with their tears. hahas, yays we were all super people today, we survived with half the manpower (:






cellgroup and lunch before heading over to hall10 for GDOP , saw cmdr daniel/bernard and claudia there :D the worship is powerful manzxz, and the dancers are coollll, i'm still madly in love with the celebration team ( shrieks!! ) btw, global day of prayer youth prayer meeting was awesomee :D and i'm proud to say that i'm one of them. :D






( pics with bugger )






trained to bedok ( yes the trains were packed ) and bused home (:





Lots of ♥, Cheryl




may. expedition rangers dinner

Saturday, 30 May 2009


ER dinner at 天天火锅 at bugis (:


yes this is the classic picture. ( shrieks!! OMG )
( idk what joyce is doing in this pic, but honestly she looks ghostly )
Lots of ♥, Cheryl
tell me why,
i'm deadddd tireddd. i swear, yes it's 12.29am and i just got back abt 45mins ago from rr ER dinner (:
headed out at 12.45 to kovan to bus down to bethel, had rangers ( nvr ever play 'catching' with three dr kids at the same time, you can really dieee from it ), and the ER's are really really slow people. went to get bubbletea with dilys and we waited for a while before walking back to church to realise that they were still standing there.
bused down to bugis for steam boat dinner (: ( i think we ate for almost 3hrs ) and went to swensens for icecream and to celebrate norman and sam's birthday :D hahas, awww the staff there's super niceeee. AND THERE WAS AN ACCIDENT !! headed home in xide's van once again :D
okay i'm blurryeyed nowww.......................
Lots of ♥, Cheryl
let all these just slip away,
Friday, 29 May 2009
school's officially out :D

yays holiday!!! life yesterday was hectic, lessons till 10.40, science spec meeting till 10.45, lunch with 3/1ers at sumo house ( while playing murderer and polar bear ) and i'm the bestest murderer around, hahas. trained down to yck for sports carnival.

and i think pushball shld be bannned!! many many many many people hurt ( awww, brandon sprained his thumb ), it ended at 5.45 and rushed home to bathe and change i headed out once again for band concert at VCH

( hahas the others had to cab there because they did't know the way, and the stupid uncle totally cheated them of their money )

pictures :D

Lots of ♥, Cheryl
take a breath
Thursday, 28 May 2009
school today was kinda fun (: went to school and had first three periods being wasted away by finishing up the mulan and pocong horror movie ( OMG!! THE SOUND EFFECTS SUCK ) had lessons for the other two periods before having MTP session (: ( yes 9th exco's 1st event :D )
moviee with suen and kia :D 3DEEEEEE
i'm in love with this crazyyy blue blob of jello lookalike (:
bused home with kohkia and walked in ( no it's super not fun when you just watched a horror flick and you're walking home alone )
Lots of ♥, Cheryl
love till there's nothing left
Tuesday, 26 May 2009

hello :D i feel a great sense of accomplishment today, went to school for 1 hr of movie wathcing, 1 hr of briefing and 4hrs of lessons, before learning dance completely and heading over to bishan to help out at parent's office :D OMG I ACTUALLY EARNED $35 in 2hrs? hahas,

and till now, i still can't figure out what that stupid black thing on the wall is, kevin was real brave/crazy to actually poke it with a stick hahas, i totally freaked when that thing flipped around, ewwwwwwwwww (omgomgomgomg)



Lots of ♥, Cheryl




making a difference

Monday, 25 May 2009



i miss ny alot :( hahas suddenly remembered how wonderful the entire trip was and i miss the cool/cold weather there and the nice english accents of the people :D hahas and of course, the beautiful scenery, great starbucks hot chocolate and wonderful shopping (:




school today was maddd to the core, 1st lesson was wasted away w/o a teacher, ended up watching horror flicks during geog instead of having lesson ( OMG I LAUGHED THROUGHOUT THE MOVIE!! ) chinese lesson, break, english lesson ( i think grammar test killed alot of us ), math lesson which i didn't really do anything and finally end of lessons.




science spec duty for dsa open house and guides before we headed home :D





hahas, and this has got to be the msg of the week :D

p/s. talking to szesze is fun :D





Lots of ♥, Cheryl




take me, use me, mould me

Saturday, 23 May 2009


yesterday,

woke at 7am (: went out for morning jog (mango tank and fbt's (: ) hahas, i like the morning breeze and the cold fresh air :D reached home and showered then left the house for tampines. Bused to hougang, and took 27 to tampines, where i think i got lost for quite a bit. but thanks to all the kind souls who helped me find my way around :D


this is debozo's super belated birthday pressie to me,hahahs. thankyou :D though it kinda made me look kuku walking around with the balloon and getting hit by people with it (tsktsk.)
Lots of ♥, Cheryl
all the way,
Friday, 22 May 2009
HELLO :D i'm dead tired after two days of fighting a war within myself to complete so much stuff with whatever tiny ability i have ( i've gone crazy with the 'tiny' craze after spending so much time with sharmini ) these two days have been hell with so much to complete with so little time, but i'm glad it's kinda nearly over (: life's been crazy to the max.

results are kinda okay i guess, at least i've improved in some subs :D hahas, im gonna work harder yo, (: hahas, okay time to get back to proposals and pingping's wedding stuff :D






Lots of ♥, Cheryl



Adverstisements
nuffnang
Profile
cheryllsw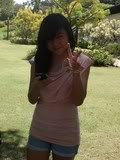 ♥ cheryllimsuwen, 29/11.
msn | facebook | tumblr | twitter | bucketlist | 365project| OOTD| fashion blog|

For beautiful eyes, look for the good in others; for beautiful lips, speak only words of kindness; and for poise, walk with the knowledge that you are never alone.
audrey hepburn



Affiliates

you're on your way

603 603 1/3 2/3

A Guides ASC Adlyn Angie Aqilah Amadea Adeline Aleithia Aubrey Amanda Aloysius Ariel Adalie Allison Amanda Athirah

Brandon Becks Blodwen Boon Hui

Cell blog Charmaine Connect Cherine Chen Teng Cheryl Calista Celeste Casmelin Colin Chun Rong Cara Cheng Ce Chui Shan

Damian Dilys David

Emily Elhannah Ethel

Finn

Guo Zhang Gabriel Glenice Gerald Gina Gloria

Haililly Hui Fang Hui Ling

Izzah n Anna

Jetaime Jun Xuan Justin Jaslyn Jasmine Jesslyn Jin Hong Jing Yi Jia Ning Janice Jassy Jerald Johnathan Jing Fang Jaini Joshua Jing Wen

Kevin Kellyn Kristine Kuan Ting Kelly

Lovel Louisa Liting Leon Lynette

Melvin Magdeline Ming Zhen

Nafeeshah Natalie Nicholas Norman Nichola

Pearl Pei Shi Phoenicia Pei Ling Puay Ying

Qian Ci Quraisha

Rui Ting Rachel Rui ting Ranjini

Sprint Sharon bugger Sarah Shirley Syairah Sheryl Serene Si Rong Si Yun Swastruck Sylvia

Tay Lin Tiffany

Victoria Valerie Venice Vicky

Woei Jiun Woei Chyi Woei Ling Wei Xuan Wei Xin

Xin Lin Xiu Ming Xi De Xiu Hui Xiu Qi

Ying Xin Yoke Kwan Yan Ting Yu Yun Yu Hui Yun Jin Yu Jun Yu Jia

Zariel Zi Yun Zhan Rong Zhi Xiang




Archives

gone with the wind

»March 2007
»April 2007
»May 2007
»June 2007
»July 2007
»August 2007
»September 2007
»October 2007
»November 2007
»December 2007
»January 2008
»February 2008
»March 2008
»April 2008
»May 2008
»June 2008
»July 2008
»August 2008
»September 2008
»October 2008
»November 2008
»December 2008
»January 2009
»February 2009
»March 2009
»April 2009
»May 2009
»June 2009
»July 2009
»August 2009
»September 2009
»October 2009
»November 2009
»December 2009
»January 2010
»February 2010
»March 2010
»April 2010
»May 2010
»June 2010
»July 2010
»August 2010
»September 2010
»October 2010
»November 2010
»December 2010
»January 2011
»February 2011
»March 2011
»April 2011
»May 2011
»June 2011
»July 2011
»August 2011
»September 2011
»October 2011
»November 2011
»December 2011
»January 2012
»February 2012
»March 2012
»April 2012
»May 2012
»June 2012
»July 2012
»August 2012
»September 2012
»October 2012
»December 2012
»January 2013
»February 2013
»March 2013
»April 2013
»May 2013
»June 2013
»July 2013
»August 2013
»September 2013
»October 2013
»November 2013
»January 2014
»November 2014
»December 2015